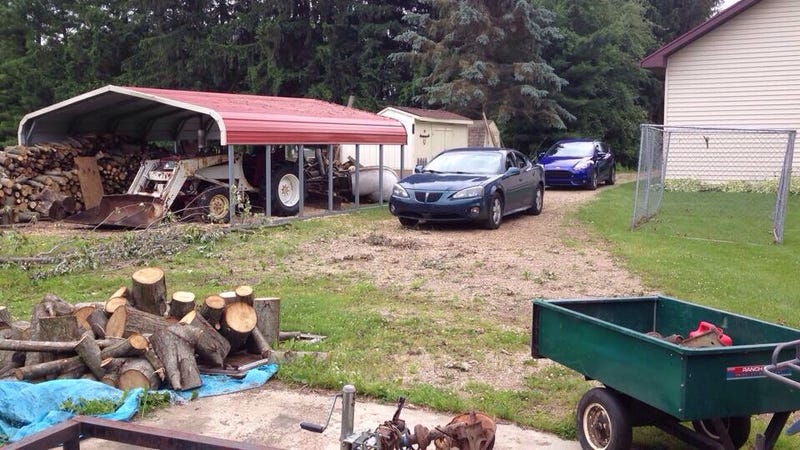 Time's are rough and frantic for my 944Lyfe. But miracles and the goodwill and generosity of others can really make things change for the better. Either that, or my incredibly stupid luck, but I reckon it's all of the above.
If anyone recalls, the 944 had it's suspension looked at by Munk's on Friday. It was there that I discovered that the front suspension was nearly completely destroyed after 122,000 miles and 31 years of driving. The front struts were completely blown, and the control arm bushings looked like mushrooms. The shop estimated for a complete overhaul with new parts and such to be in the ballpark of $1500-2000. That's money I simply do not have at the time for the car right now. So I sadly reported the condition of the car to Rennlist, and my utter loss at what to do. What made it a little more disappointing for me was the fact that I had intended to meet with another Rennlist member, the same one that helped me do my timing belt a couple months ago, for a summer get together this upcoming Saturday; that seemed like it wouldn't be happening now.
But shockingly, when I checked the forum Saturday morning, I was stunned to find someone fairly local to me had the entire front end of their project '84 944 removed and some suspension bits laying around and offered me whatever I might need if I could come pick them up! I quickly PM'ed him and told him I could come right after work at 3pm, which is when he got off work as well(luck moment #1). I anxiously waited for work to end, and when it did, I sped home and grabbed some snacks and water and got on the freeway; also testing myself to see if I could get good MPGs in the ST, again.

After an hour or so on I-96, I met the guy, his name is Shane, at a small carpool lot off the freeway. From there we drove to his shed about 15 minutes away. Upon arrival, I saw an empty 924 and a beached Olds next to the shed in question.
Shane is a mechanic in his small town and owns two three P-cars. The first was this 924 as a parts car, the '84 was a running car that he bought as a project to eventually either do a turbo swap or stroker build; entailing the use of the 944S2 or 968 3.0L crank and some other bits. His most recent Porsche is an '86 944 Turbo that he got for a highway robbery price because the previous owner thought it needed a head gasket and it didn't, $2500(LESS THAN WHAT I PAYED FOR MY 944!!)!!
(He's got a lot of neat cars at his house, you can see the El Camino, and Willys Jeep on the right)
So this is where the story gets kinda funny. We're looking around for the struts, and we can't find them in the shed. As we're walking around the shed, I notice the Willys and run over to check it out, as I'm walking around it, I see two long bars barely sticking out of the pile of pines on the ground: The struts we were looking for!(luck moment #2)
Believe it or not, they'd been back there the whole time and the pines had covered them up and protected them from the majority of the elements! They were the struts original to the car you see below, and only had roughly 54,000 miles. Compared to my car with more than twice the mileage, it's pretty freaking awesome!
It took us some time to remove the spindles and hub from the struts, but believe it or not, they came off easier than we thought, and after an hour or work, we had the struts free!
But wait! How did we find out if they still worked? Easy! We set them straight up and supported them on the sides. Shane grabbed his International tractor(either a '68 or 69, the one in the lead pic off to the left) and pressed down on them with the loader. They compressed and released just fine!
I took some time to look around the shed some more:
He's got two extra 944 Turbo blocks and a seemingly lifetime supply of parts for many things! I asked him if he happened to have an original Blaupunkt radio that came with the 944 when new, and his '84 has it! I'll be buying that later in the week too! That, and a new windshield wiper fluid reservoir, as mine has been cracked since before I owned it. Hopefully I'll find some more parts and goodies and the future I can buy, should I need them. :)
Shane is a very nice and generous fellow and gave me the struts for $70 dollars. I'll be picking up the radio and reservoir for $20 and $10 respectively!
(My MPG average upon return from my trip)
I actually did pretty good MPG-wise, even though I was cruising between 65-85mph there and back. So it just goes to show that Ecoboost is "Eco" on the highways and freeways, not so much anywhere else.
Sunday, I began the process of "restoring" the struts to look a little more pleasing externally.
After a couple hours of washing, and cleaning rust via the unorthodox method of white vinegar, aluminum foil, and sandpaper; I got them primed and ready for paint later today!
I plan on painting them in a tri-tone color, the German flag colors! That'll look pretty interesting when complete, I'll show you all the finished product probably by Tuesday. I'm ordering new ball joints and control arm bushings to get here as quickly as possible, as I enlist the help of as many local car enthusiast friends to see if we can get this done before Friday, and aligned before Saturday. This should be an exciting week for sure!