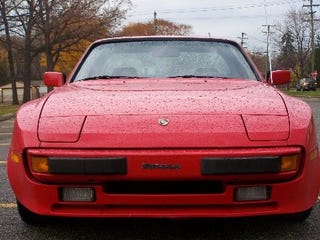 This is the one I plan to buy! I haven't actually bought it yet, but the owner just emailed me some pictures yesterday and now it's time to share'em with you Oppo! also....HRRRRGGGGG!
Also here is the option code sticker for the car. It means it has these options:
M404 - front and rear sway bars
M410 - sports seats seat/backrest cloth/leatherette
M425 - rear window wiper
M431 - 4 spoke leather 363 mm stressing wheel
M454 - cruise control
M650 - removable sun roof
And yes, IT IS A MANUAL TRANSMISSION!! :D
Here's the original description of ze car too:
Porsche "Sport" seats(The seats will look like this, not sure how worn though)
Porsche Red(Guards Red)

Tab replaced the timing belt, motor mounts and a gasket when I bought the car.

The prior owner replaced the clutch shortly before he had to sell the car as a result of a job loss.

I think I have fewer than 5,000 on the car from the time I bought it.

NOTE: the 1984 is on-turbo, but it is easier to work on.

Bought car in 2008

The car has always been garage kept and doesn't appear to have any rust.

AND IT HAS BLACK COOKIE CUTTERS!! I'm in love with this car!