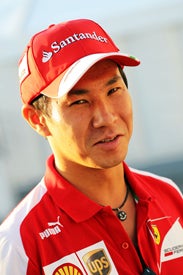 "I am 27, I still need more to race in F1," said the former Toyota and Sauber driver. "That is why I chose to come back to F1.
"Ferrari offered me another contract, and Stefano [Domenicali] is not happy I didn't take it. But it is only my decision to be here.
"I took a risk in my life but it is important for me.
"Caterham needs some different energy and my experience is quite useful for this team. We'll see what I can do. I am quite confident."
Beyond that, Kobayashi also wanted to emphasise to Fernandes how eager he was by making no pay demands at all.
"I'm driving for free, it is my decision," he said. "It is just my approach. I want to do this job. This appeals to Tony, this was the message to Tony and he is happy about that.
"I want to help the team. I don't care about the money. I want to be successful in my life and I want to bring the team back successfully in my goals."
Kamui is the man! Tells Ferrari no to a sportscar + simulator job for next year and drives for free! When Honda comes back, will Caterham move to buy Honda turbo engines for 2015? (If Tony Fernandes doesn't pull out of F1 by the end of this year!) Kamui might get them a lot of eyeballs back in Japan too. Remember the chants in Japan last year when he got on the podium?
Ka-mu-i Ka-mu-i Ka-mu-i