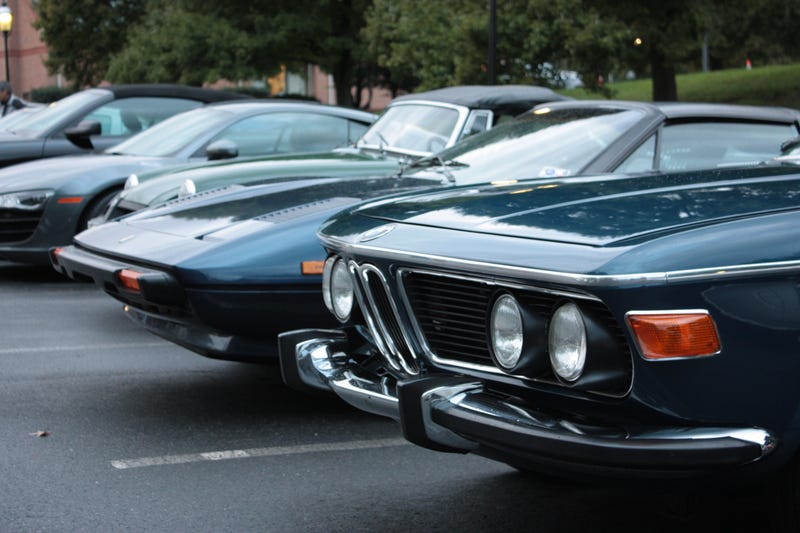 For my first Oppo post, I thought I would share some pics from Katie's Cars and Coffee in Great Falls, VA this past weekend. In addition to C&C, it turned out to be a pretty neat car weekend. But first, some pics! I am just learning on my DSLR, so I apologize in advance if some of these are atrocious and I don't know any better. Oh, almost forgot that McMike and I bumped into Doug DeMuro at C&C, which was pretty cool!
After the pics, I'll discuss the activity that my wife and I did in the Miata that was previously thought to be nearly impossible. Hm...
McMike and I caravaned over there at 'O Dark Thirty; he in the Mini and I in my 91 Miata.
This Ducati had one of the more simple forms of on-board turn-by-turn navigation I have seen in a while. After reading it, I think it is a nice twisty loop through Rappahannock County, VA that I'll have to verify on Google Maps sometime soon.
Now you see the new i8 that showed up...
... and now you don't! It was an impressive car that clearly attracted some attention.
Cars and Coffee was pretty cool on Saturday, but Sunday turned out to be another good car day. We started the day by washing my wife's car, which doesn't sound all that interesting except for the fact that she somehow became addicted to Griot's Garage products after I showed her how to use Speed Shine for the first time. On one hand, it is kind of a riot to see her get so into using Speed Shine, then Interior Cleaner, then the Rubber Dressing, etc. But on the other hand, it brings a ginormous smile to my face to have two borderline OCD car-care freaks under one roof.
So, about that activity between my wife and I that was previously thought to have been impossible. It probably isn't that activity that you're thinking about, but I happen to think it is pretty darn cool. My wife and I took the Miata over to the high school parking lot for her first lesson in driving a manual transmission and I am really happy to say that she did a fantastic job for her first session! She is known to have almost no coordination of any kind and even less patience, so it certainly had the potential to send us to divorce court. Instead, she surprised the heck out of me and was cranking out some reasonably smooth 1st-to-2nd shifts within an hour or so. Is it too early to start shopping for a Miata for my wife?
Having seen some cool cars and made some new memories with the Miata, it turned out to be a neat-o car weekend. And hurray for my first Oppo post!