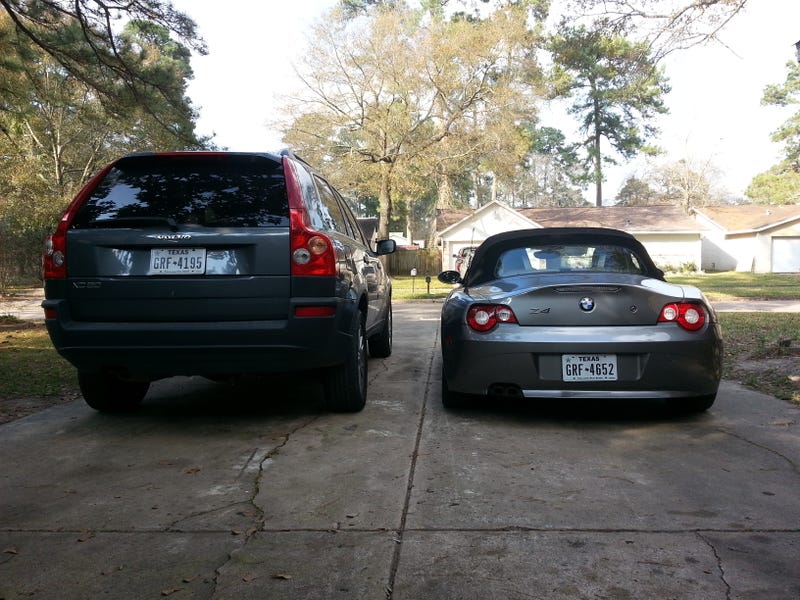 Inspired by Kirsten Lee, guess what you think your car/bike it's worth, look it up on KBB (or equivalent) and see how close you were. We are doing the Private Sale price. I'll go first...
EL MOOSE!! (2005 XC90 2.5T)
The Good:
It's in great shape outside/inside and mechanically perfect (because duh, it's me). Just did a FULL service last month, brand new tires and fresh F/R brakes. 4300K xenon upgrade and yellow fog lights/high beams Because Group B.
The bad:
Headliner is starting the get bad in spots and it has 148K on the ticker. Needs a good clay, polish, and wax. Inside needs a good detail job.
My guess: $5,200 Bob.
Result:
Valiendo chiches de ardilla! Off by $1,200.
EL ZAPATITO (2005 BMW Z4 2.5)
The Good:
Also in great shape outside. Everything works. Sport wheels. Only 121k on the ticker which isn't too bad on a 05. The design aged very good. Sport wheels and awesome color. Cold air intake and fresh Continental run-flat tires.
The Bad:
It's a BMW, so it leaks oil (front seals and rear main). Cruise Control doesn't work. Some relatively inexpensive interior trim is broken (a handle, cup holders). Also needs a good detail inside and out. Needs roundel in the back. Needs headlight restoration. Base model and it shows. Pretty plain on the inside. zzzzzzz
My guess: $4,800 Bob.
Result:
Note to self, don't play the Price is Right and fucking wash them! Need to stop being lazy and clean them good.