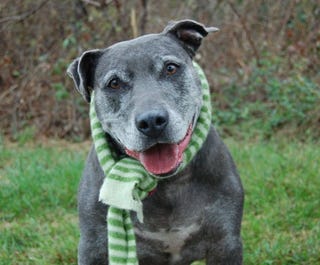 My first Oppo post, but I thought this was a good reason to share. Meet Matteo, he'll be moving in next week!
I saw him about a month ago on a local rescues website, after watching a video of him they had on YouTube I thought I'd like to meet him. I finally did on Tuesday and we hit it off immediately. Took my wife today and it again went well. Tuesday they told me he's been there for 2.5 years and when I heard that my heart dropped and I wanted to bring him home right away. I couldn't believe he was there so long as he's such a sweet fella.
He's around 5-6 years old. When they found him it was in a hoarding situation along with a bunch of other dogs. He was kept in an undersized kennel, malnourished, dirty and had fleas. I'm not sure the extent of his abuse past that. They say he's not good with other dogs, cats or small children. I'm guessing that's why he's been looked over so much as he's hard to even foster since most that do have other pets. They said he's also more shy around females as well but I didn't notice any change with my wife there.
We'd bring him home tomorrow, but are having our annual, and quite large, Christmas party this weekend and I don't want him to be locked away and frightened with that much commotion in new surroundings. We'll pick him up next week...which is admittedly difficult as I've now left twice after visiting and was sad to leave him behind. Everyone at the rescue is very excited for him, my friends daughter volunteers there and almost cried when she heard we may bring him home. We know his transition will be somewhat difficult for him, but I'm feeling positive that he'll do well. On their suggestion we are fostering to adopt as even they are unsure how he'll do since he's never been fostered. So far he's given me no reason to think he won't excel in his new home, and short of unseen drastic circumstances I'm prepared to give him as much time as he needs to get comfortable.
If any Oppos out there are familiar with this type of transition for a dog like him I'm very open to any helpful advice.