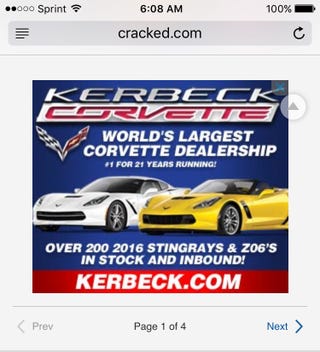 After reading SteveLehto's article, on the FP, about that ridiculous car warranty, someone figured out who the dealer was. Naturally I visited the site, twice. Once for kicks, a second time to check out their ridiculous deals. I've been spammed ever since with the ads.
I would feel honored, except that; 1. They apparently hate fixing cars over 100k miles and/or 10 years old, and 2. They have no used cars in stock. They have a link for used cars, they also claim they are the biggest corvette dealer in the world, but have no used corvettes? Where's the fun in that? I always find the used car lot exciting because you never know what's there.
I thought about calling them up and asking for used car deals on their lot, just to see if they were too lazy to post them online. Of course im not buying, just really curious.