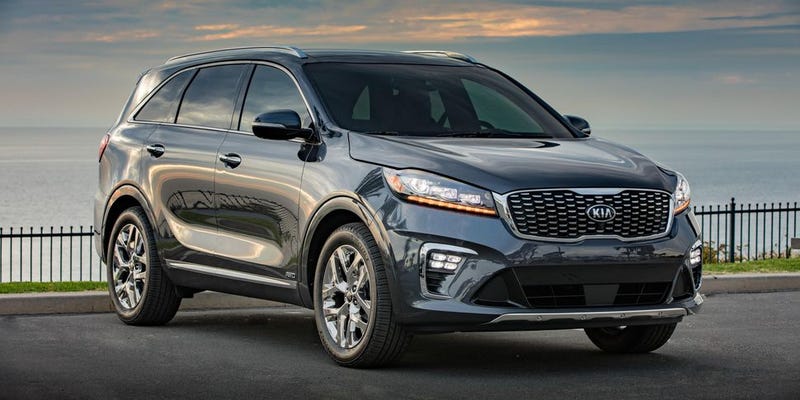 Kia unveiled the 2019 Sorento SXL and it's a really interesting mix of both the Cadenza and Stinger's front design cues. They also made the third-row standard across all trims, ditched the turbo 4-cyl, and will likely replace the naturally aspirated base 4-cyl with a diesel in the coming years.

Kia is going after the MDX specifically and appears ready to provide additional trims at the top end and breakaway from the class alongside Mazda. I wouldn't be surprised if we see the Sorento top out at over $55,000 before the end of the decade and be reviewed against the MDX and new Lexus RX L.
Most commodity brand 7-seaters top out before $50,000 and avoid the MDX which pretty much starts where the class ends at around $45,000. However, Kia and Mazda seem to be the two brands actively moving to upscale offerings without forming a subbrand.
If you don't believe the upscale intent from Kia (because I know everyone is fine with taking Mazda at their word), check out these two commercials:
Sedan Out of Nowhere
SUV Out of Nowhere
Here are the 2nd generation Cadenza (musical term) and 1st generation Stinger (which is also a musical term for a very brief composition used to introduce, end, or link sections in audio or visual productions). When you take both into account you realize that Kia is hitting the TLX from both a luxury/comfort side and a theatrical/dynamic side.
---
On a separate note, I think Mazda is doing a great job moving upmarket but while Kia is aiming for Acura, Mazda is aiming for Buick and was going to prey on the weakness of the Buick brand in terms of engagement in design and driving. However, I don't think anyone accounted for Buick wishing to push upmarket with just as much aggression (and quality of product) as Kia and Mazda.
Buick, Mazda, and Kia are the real brands to watch right now if you like seeing rapid progressions. Very cool branding moves from all three. Subaru is moving too but they are aiming for the mainstream instead, which is the biggest move you can make in terms of branding.
*Here's a musical stinger that everyone knows, the Dun Dun Duuuuuuuunnnn!!