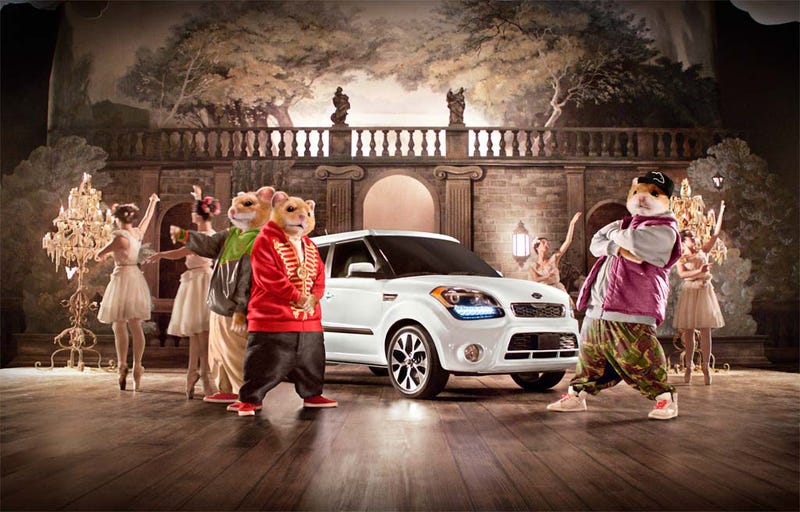 As a composer, I'm a sucker for musical cars whether that be in name, interior chimes, or exhaust note. Kia struck a major chord with me when they named models Soul, Forte, Rondo, Cadenza, and Quoris (Chorus). I would love it if they didn't stop the music and really went all in on this great brand theme.

Kia Soul - keep it funky, keep the light up speaker and Hamster gimmicks going.
Kia Rio - Give it some Brazilian dance music trims. I'd rock a Rio Samba, Choro, or Funk Carioca! Just sayin'.
Kia Forte Sedan/Koup/5 - You have a vehicle named after a dynamic...maybe make the car dynamic!
Kia Optima - Should have been named the Sonata. Bugs the shit out me so much that it needs a Scat Pack. Like the vocal style, ya nasty!
Kia Cadenza - I like it even though the new styling, like musicians, only look good on certain occasions.
Kia GT Sedan - Call it the "Sequenza!" I don't care if the works Luciano Berio aren't mainstream (though they sort of are in my clique). Have you heard the ones for Bassoon, Trombone, Flute, or Voice?! Freaked me out...
*Sequenza is the collection of experimental works by Luciano Berio. Each one is written for a different solo instrument and exploits the performer's total mastery over the techniques for said instrument (virtuosity) through the use of "extended techniques," which are nontraditional ways of creating sounds for the instrument. All kindz of badassery...all kindz!
Kia K900 - Since the day we got it in the US I have said two things, "They should have called it the Quoris," and, "It should have been an SUV." I can almost guarantee that the next one will be a big 4 door coupe limo that will look like a cross between a Jaguar XJL and the Cadillac Escala Concept. You know, if the GT Sedan and Genesis are successful enough in Korea and the Eastern World to continue to cover the loss in the North American market.
The major people movers (CUVs and minivan) can continue being named after places you don't vacation to unless you have family that lives there. I mean seriously?! No one visits Sportage, Arizona! Why would you name a vehicle after that place?!!!
I know you were expecting this to be a post asking Lin-Manuel Miranda to write a musical centered around people beatboxing in Hamster costumes. You were right! Get on that, Lin and Kia!!
*Bonus old video which was my first introduction to Lin. Still use Lin's opening in everyday conversations.