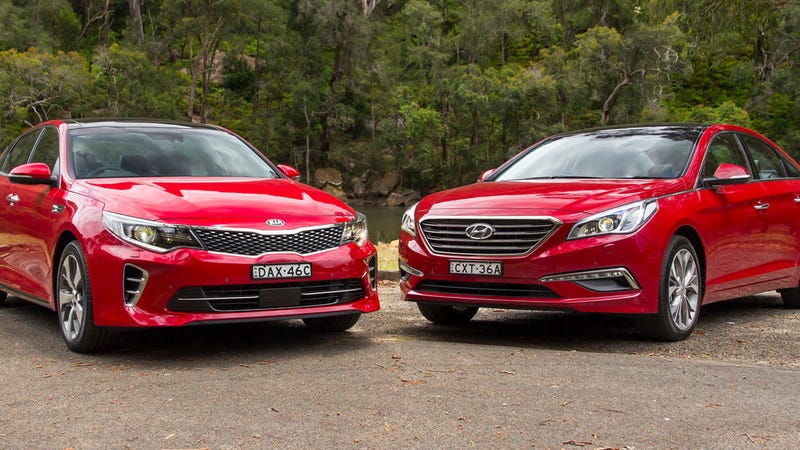 By the end of 2016 Kia sold 475,107 in Korea compared to Hyundai's 418,303 sells at the end of last year. Complete fluke...or so we thought until Kia maintained that lead with year to date sales totaling 104,954 versus 101,644 for Hyundai passenger cars. Ok, so maybe Korea is just into European-styled cars right now. This is so localized that it simply a fad like that Instasnap thing.
Then we get into US sales for May and find out Hyundai sold 58,259 cars (down from 71,006 last May), while Kia sold 58,507 (a decline from 62,926 from 2016). Both brands are down, but one is down about 4,400 cars compared to nearly 13,000 at the other brand. That's crazy! Hyundai is missing an entire Cadillac or Infiniti's worth of monthly sales. No, Genesis isn't making up those sales losses since they barely outsell Maserati (but both the G80 and G90 are doing pretty well for their classes in sales numbers).
So far in 2017 these are the Top 12 selling brands in the US:
Ford- May (229,962) / Year (1,020,169)

Toyota - May (192,847) / Year (843,423)

Chevrolet - May (162,950) / Year (799,040)

Nissan - May (124,957) / Year (609,488)

Honda - May (134,475) / Year (592,260)
Jeep - May (75,516) / Year (333,138)

Hyundai - May (58,259) / Year (283,547)

Subaru - May (56,135) / Year (252,753)

Kia - May (58,507) / Year (239,593)

Ram - May (51,044) / Year (230,950)

GMC - May (41,126) / Year (221,741)

Dodge - May (44,922) / Year (218,430)
All the excitement is between Nissan and Honda with the Rogue and CR-V since after the F-Series, Silverados, and Ram trucks they are the best selling non-trucks in America (bye bye Camry and Civic). For any lurkers out there I'll say this, I think the Rogue and the CR-V are some of the best products to ever be offered to regular consumers. Seriously, this is one of the times two vehicles have earned their popularity and it will be a year or two before other brands catch back up. These are two vehicles that actually changed the passenger car game. They are the template ALL subsequent products from other brands will utilize. Check them out now because every highbodied vehicle will be just like them, that way if you don't like them then you know not to waste your time considering a commodity crossover in the future. But you're probably going to love them...
Jeep is interesting because their products sell fairly evenly. The loss of the Patriot is actually hitting them hard right now but I think the new products on the way could see them hit one million sales by the end of 2020.
Somehow Subaru has kept it's "niche" aura even though they outsell the entire Volkswagen Group in the US. I mean seriously people, a Chrysler minivan is "niche," Subaru and Jeep in the US are not. One day people are going to accept that Subaru is mainstream and the sells are going to stagnate then decline because the US consumer hates sellouts...until they're ready to buy again, then Subaru will be running the same numbers as Jeep since they are pretty much the passenger car version of them, except with standard AWD.
Anyhowdydoodles, I think this year is a great year to buy a new car. Lots of competition and a lot of falling sales right after increased production means incentives. I'm seeing about $3,000 off on average from nearly everyone. Basically any new car you're looking at the automaker will give you a free bump up to the next trim level. Noice!
But really as long as you're looking to buy new or used you're going to get some awesome deals and they'll likely continue for the next 18 months as the market switches to leasing and then finally to more of a subscription/contract style like your phone or internet. Cars are going to be devices instead of machines so they'll need to be sold as devices. We'll talk more about that another time though, kin!