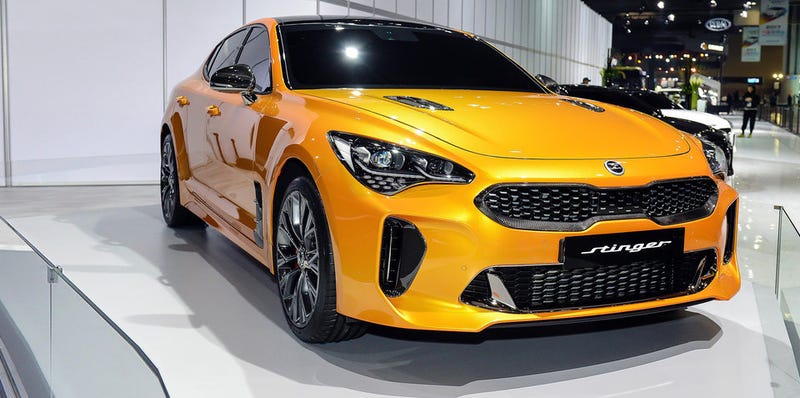 You can see the "E" badging up front which the RWD cars will wear in S. Korea only. The K900 successor, which is going to be very different from what we currently have, will receive it too in that market along with a new name. I hate the finish on that carbon fiber.
The E doesn't mean anything outside of some marketing wordplay for S. Korea in order to make the vehicle a bit more exclusive. You have to remember that pretty much 1 out of 4 or 5 cars on the road is a Kia so South Koreans are buying other brands because they want something different. How often do you pass up buying a car because someone you know currently owned one?
No subbrand is coming nor any updates to the current badge. All Kias will stay Kias but at least now you know the badges in rear and in back are just stuck on. No holes or impressions, just smooth body underneath for flawless debadging.
I think the US pricing goal for the Stinger GT (the one with the 3.3L) is going to be a starting price just over $38,000 (RWD) and top out around $46,000 including AWD. So right between the starting price of a 430i xDrive Gran Coupe and a 440i Gran Coupe.
That's really all the interesting stuff about the Stinger for now, other than a Black Edition coming.
The K900 is being replaced with something more like a split between a 5 Series and 7 Series (no, not a 6 Series GC). That shouldn't make sense but it does...anyways, a new nameplate is coming (Veredus is still possible) and as soon as I find out more I'll let you all know. Also waiting to find out more on the the second performance turbo V6 we heard about years ago. It's supposed to hit around 440 hp and 480 hp and should be popping up for winter testing next year.