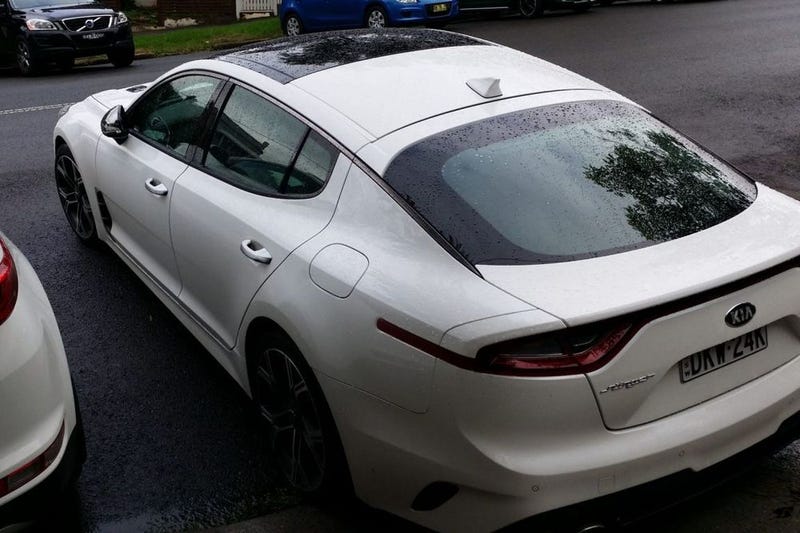 After its North American debut in January and its European debut in February, the Kia Stinger is finally having its local debut in South Korea this Friday. Kia said the Stinger will be launched in its home market during May with a base price of about $27,000. The vehicle could very well start around the $30,000 mark when it makes it to the US sometime around Fall.
The RWD version of the Stinger, with its standard limited-slip diff, will NOT wear the Kia emblem. Ooooo! It will receive it's own unique badging much in the way that the Kia Mojave has a unique emblem (by the way, the Borrego never died outside of North America). Interestingly the AWD models will receive Kia badges in the local market as well as ALL exported cars. So this is a special badge for Korean buyers of the RWD-spec Stinger only. It's seeming as if the RWD car may be more different from the AWD version than we thought...
If you are in the US and just can't wait to pick up your 365 hp, turbocharged V6 Korean sports sedan (first time that has ever been typed) then you can grab a 2018 Genesis G80 Sport around the same time the Stinger launches in Korea. However, that is a vehicle which will likely weigh 300-400 lbs more and have a $7,000 premium on it. But hey, the big boy G90 weighs around 4,800 lbs and that V6 seems to hustle the thing from 0-60 mph in 5.4 seconds. I have a sneaky suspicion that this powertrain is, in a twist of the norm, very conservative and is actually a far meaner engine than its "current" applications suggest.
The smaller Genesis G70 should be revealed fairly soon and launch in Korea towards the end of the year.
I went back and looked at the RWD demo car everyone was driving and it is indeed badgeless up front (even in the press pictures) but not in the rear.