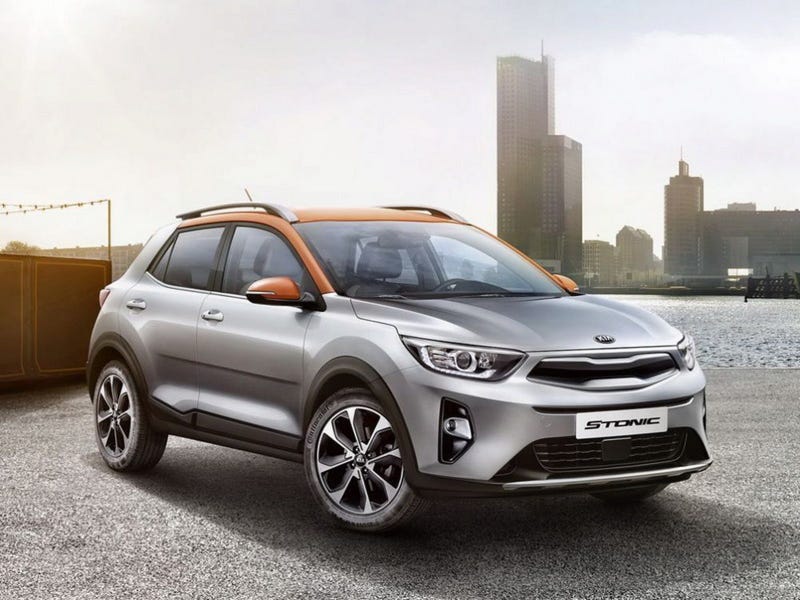 Actually it's pretty decent, I just don't get into cars until they start pushing on the 200 hp mark. After that I'm pretty open to any design, being the very model of a modern major IS THAT A MANUAL?!!!
Press pictures usually show off your top trim, right? Right?! Not just the base Euro-diesel model, right? Riiight?!! Is Kia trying to imply this Rio-based CUV is going to be...interesting? Handbrake in the correct place, three pedals, relatively flat-bottomed steering wheel, maximum available size infotainment screen...but the seats are throwing me off in this leaked picture. I can't tell what level the trim is! At least a US "EX" but maybe not an "SX."
Don't be writing no postdated checks in here, Kia! Like me in grade school, they aren't accepted here!!
You know what? The Sportage became a crossover in 2004. The Sorento became one in 2009 so this is only the third "real" CUV for the US from Kia. Only took 8 years! Thank goodness CUVs weren't trendy in the US until last year or else this would be like the parent you dont live with after the divorce, late to the recital...err, game... party... all of them!
For the US, the Borrego was a one-time only SUV back in 2009. The Rondo, Soul, and now Niro just continue the tradition of offering tall hatchbacks/wagons and telling everyone they're whatever people are buying at the time.
Congrats to Kia on their fourth vehicle to ever power more than two wheels in the US! I can't wait for the official reveal and info in July.
*Update: I just heard this thing will NOT be offered in AWD (according to Autocar)!!
**I guess people are just posting the entire car now in order to take advantage of the search traffic!
New 1.0T engine making 112 hp, so that explains a lot. Kia is packing these European Stonics with tons of safety tech, content, and customization while minimizing the powertrain in order to keep the proce way down. I'm extremely curious about the US spec now because there's no way that will work here while staying out of the Soul's way.
Sorry everyone, this car has been constant curve ball after curve ball. I'm just leaving it alone because I think the Stonic is going to vary greatly market to market.