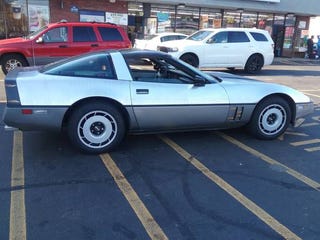 The ad reads just fine and lovely... right up to the point where it mentions that that's not actually silver paint on the car, it's foil fucking tape, and then you scroll back up and take a closer look at the pictures and JESUS TAP DANCING CHRIST WHY WOULD SOMEONE DO THAT TO A CORVETTE.
This car is almost new!! 3000.OO OBO will take 2500.00 if you have a little shit box to trade with the 2500.00 , not junk yard status but not perfect... car , truck , or motorcycle, Yamaha only preferably r6

Would NOT sell if I didn't have too!!!! In a financial bind, my loss is your gain! All receipts for work done! I'm losing money!

New motor complete new block 2012! It's the trouble free motor! The better of the three motors in this car.

Kilt switch

The dash is digital and all works.

Power windows

Rebuilt transmission

New ignition

New tires

New shocks

New brakes

New battery

New starter

Complete new exhaust

New radiator

Nice after market radio

All lights work

All new windows including hatch and windshield

Locking fuel tank

ORIGINAL RIMS! 30+ Years old .. still look brand new!

Everything is operational in this car

Leather is intact just a little worn

Inspected til 09/17

4O16168336

4O17215312

*Disclaimer *

Car has very meticulously placed foil tape .. it is not silver paint. But the paint is gray under the foil. The clear coat is peeling back that's why my dad put the foil.

Very original looking!

Everybody is intrigued!

My father put the tape on... it took 12 hrs over two days.

Still looks great, drives even better!