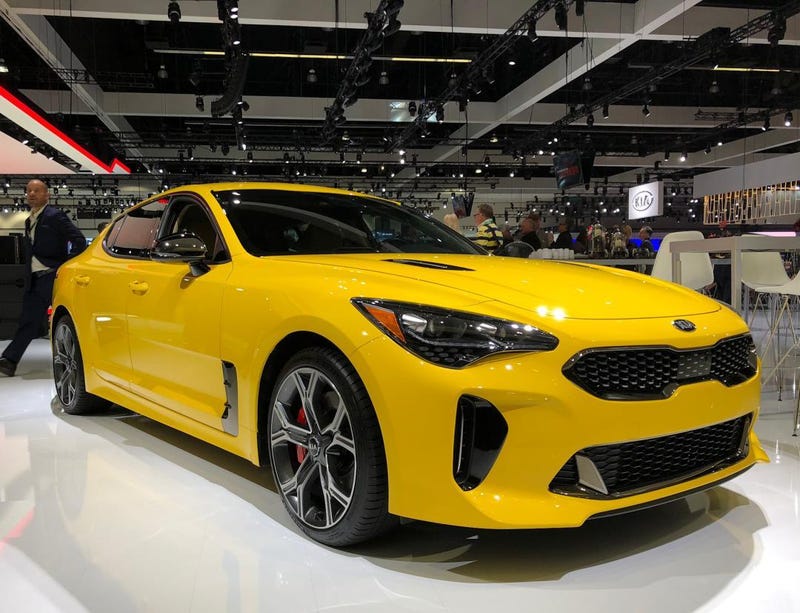 Word on these skreets is that the fabled Kia Stinger in Sunset Yellow will be a special edition model for the US. All of them will be the RWD base GT variant (starts at $38,350) but include the mechanical limited-slip differenetial that is currently exclusive to the RWD Stinger GT2 models (starting at $49,200). There will only be 400 of these Killer Bee* Stinger GTs hitting select dealers during 2018.
*Note that this is my own term for the Sunset Yellow Special Edition, but Kia can use it only if they eventually make a Stinger GT Wobbles Edition aka "Da Dubbie." 
Kia sold 17 Stingers during the final week of November. That's about halfway to matching the monthly sells of the K900! Deliveries just started and December will still be a difficult time to find the cars nationwide, however, there are at least 200 Stingers available around the country right now with an unusually even spread across the full price range. Expect the Super Bowl to kickoff nationwide Stinger availability as well as launch these enthusiast special yellow Stinger GTs with the mechanical limited-slip differential.
The M-LSD is from GKN Drivelines. In regards to the automotive world, GKN are a top tier supplier and were an essential drivetrain partner for the Porsche 918 Spyder, Nissan GT-R, Ford Focus RS, Jeep Grand Cherokee Trackhawk, and plenty more. If the drivetrain is sicker than the day after I was dared to lick every door handle on my floor of the hotel during our band trip then GKN was probably a part of that...a part in that.