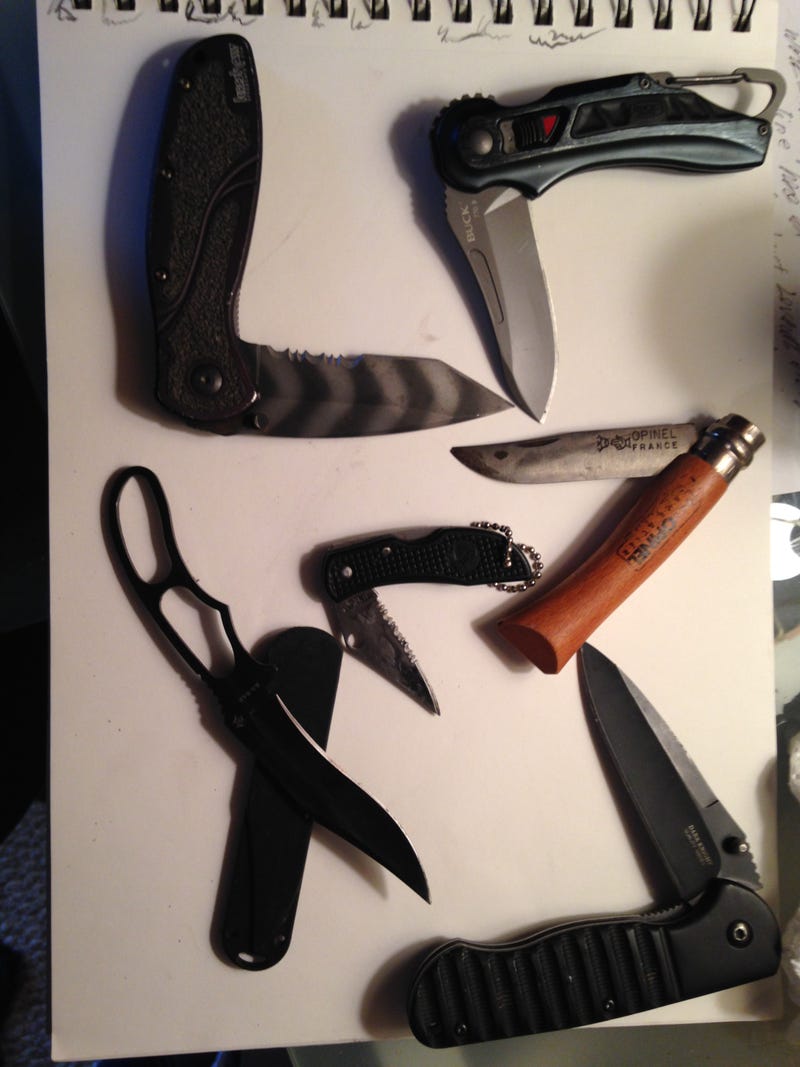 As some of you may or may not remember, I found a knife the other week! The Kershaw blur with the tiger striped blade up there is the one I found in a pretty gunky state. Decided to tear it down to clean it out and re-lube it which of course led to pulling out my other knives, none of which are too special. The tear down of the blur went great and now I use it as an EDC
There is the Opinel that I love but the tip is broken off and it's rather dull (something common in all my knives).
The fixed blade is an awesome little zombie branded Ka-Bar that weighs damn near nothing but I was once drunk in school and tried to use it as a throwing knife at a dart board. The tip is bent on that one and needs a sharpen.
The other black folder is a black knight or something also from Ka-bar. Stopped by their factory once and it was cheap and worked. Nothing special with this other than it wasn't working before because the locking mechanism had to be bent up some more to actual lock the blade.
There's another very small black folding knife that I don't even remember where it came from and is usually buried in a backpack or my car.
The Gerber is pretty nice but there isn't any sort of finger pin to whip the blade out on the side. There is a nub on the backside that helps but it still isn't as easy as the Blur. The whole thing is pretty bulky and heavy with a tiny carabiner that doesn't do too much. Still a nice little knife.