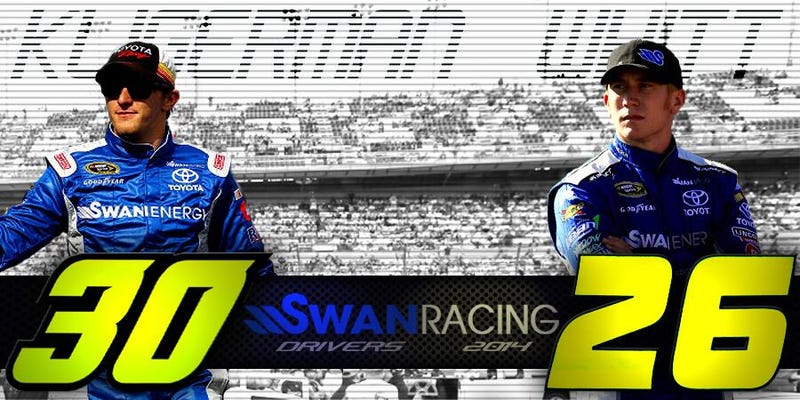 Who are they?
Parker Kligerman, 23 years old from Westport, Connecticut, when he's not contributing to Jalopnik, will be spending his spare time competing in the Sprint Cup Series for Swan Racing in the #30. Kligerman was a Penske Racing developmental driver from 2009-12, competing in the ARCA Racing Series with Cunningham Motorsports and the Camping World Truck Series with Brad Keselowski Racing and Red Horse Racing. In 2013 he moved up to the Nationwide Series full time with Kyle Busch Motorsports in their last season in the series.
Cole Whitt, 22 years old from Alpine, California and cousin to former Truck Series race winner Brandon Whitt, will be spending his 5th full season in stock cars as a teammate to Kligerman as Swan Racing expands to two full time cars in 2014 with Whitt driving the #26. Whitt's a former Red Bull Racing developmental driver who moved from USAC to stock cars in 2010 in the K&N Pro East Series. He moved up to Trucks with Turn One Racing in 2011, and after RBR closed shop and ended his developmental deal he joined JR Motorsports in NNS in 2012. He spent last season driving part time schedules for Swan in Cup and for TriStar Motorsports in NNS.
What have they accomplished?
Kligerman had one of the most impressive seasons in ARCA history in 2009 as an 18/19 year old, finishing 2nd in the championship but picking up 9 wins; the wins are tied for the 5th most in a single season since 1991, with only Frank Kimmel (10 twice) and Tim Steele (12 and 11) managing better over. He also won the pole in his Nationwide debut that year, driving for Penske. He finished 10th in the standings as a rookie in Trucks in 2011 (4 top 5's, including back-to-back runner-up finishes), and despite splitting from BKR halfway through 2012 he managed to finish 5th in the standings (8 top 5's, 9.2 average finish) after joining RHR and picked up his first Truck Series win at Talladega.
Kligerman finished 9th in the standings in Nationwide last year with 13 top 10's, a best finish of 3rd and a 14.1 average finish. He also finished 18th in his Cup Series debut for Swan Racing at Texas Motor Speedway and followed it up with a 25th place finish at Homestead.
Whitt will be hoping to finally wins a ROTY award in NASCAR, as he's finished runner-up 3 times throughout the ranks. He was 2nd to Darrell Wallace Jr. in 2010 in KNPSE (6 top 5's and 2 poles in 10 starts to finish 4th in points), to Joey Coulter in 2011 in Trucks (first rookie to ever lead the points standings, finished 9th with 2 top 5's and 11 top 10's) and then to Austin Dillon in 2012 in Nationwide (4 top 5's and 14 top 10's to finish 7th in points). Whitt joined TriStar and despite only making 15 starts he had the best season ever for a TriStar driver with 4 top 10's (the organization only has 13 in 4 seasons) and a 15.7 average finish (vs. 14.0 for JR Motorsports in 2012).
Whitt has the most Cup experience among 2014 rookies with 14 starts since 2012. It includes 4 DNQ's and 5 start-and-parks, but in his 7 starts with Swan Racing last year he had a best finish of 27th and a 33.9 average finish. He's also a major USAC standout; in 2008 he became the youngest ever National Midget champion at the age of 17 and won a total of 17 races in 2009 between Silver Crown, sprints and midgets.
What are their ROTY chances?
The good news for Whitt is that he won't have to worry about finishing runner-up in the ROTY standings again, because neither he or Kligerman will be finishing that high. Austin Dillon and Kyle Larson have the top two spots on lockdown, leaving the Swan Racing rookies among those who'll be racing for best-of-the-rest. For that, I think both drivers have a good chance of finishing there and will likely be competing with Justin Allgaier for 3rd. The team formerly known as Inception Motorsports has competed in the Cup Series since 2011, and after being a start-and-park team in their first two seasons they made big strides in 2013 and finished 33rd in owners points last year. The organization split from driver and part-owner David Stremme to go in a younger direction with their drivers, and after trying out Kligerman, Whitt and Kevin Swindell in the #30 late last year they've settled on these two rookies drivers for their expanded operations
While Whitt struggled some in his starts last year, Stremme's decent showing (29.6 average finish in 25 starts) and Kligerman's strong first two starts are a good sign for Swan Racing's chances of continued progress this season. But some top 20 finishes through the year might be the best that they can manage, especially if a move to two full time cars proves to be too much of a strain.
What are their long-term chances?
It's fitting that Kligerman and Whitt are teammates in a Cup team that couldn't be called very competitive, because both drivers have had to cope with driving lesser equipment compared to their peers to get to this point.
Whether it was Kligerman trying to win in BKR equipment that not even team boss Brad Keselowski could win in but coming just as close as he has to date, or a stripped-down KBM Nationwide team that was hardly as good as they were the year prior or as KBM's championship-caliber Truck operation has been.
Whether it was Whitt nearly beating Kyle Busch for wins with a Truck team like Turn One Racing, or having a solid rookie year in Nationwide despite having to suffer what was JR Motorsports' worst season since 2007 and then being shuffled off to TriStar where he might've performed even better.
Both drivers have been good producers but haven't had the flashy results that would better represent that if they could've driven for Turner Scott Motorsports or Richard Childress Racing or any other Cup team. If they can keep it up with Swan Racing and out-perform their equipment then either of them could land in better situations and show that they belong in Cup and can become race-winning drivers.
Kligerman's easily one of the more intelligent, well-spoken and interesting drivers in the sport. That's evident if you follow him on Twitter or read his pieces on Jalopnik. That not only translates well off the track as far as attracting sponsors and dollars, but it also makes him a heady racer who you can rely on to push a car only as far as it can be pushed. It's why he did a better job keeping KBM equipment off the wall than either Kyle or Kurt Busch did the year before. Given that and his better results through the ranks, I'd give the edge to Kligerman as far as who I think's going to have more success in Cup.
But that's not to sell Whitt short at all; he's a little more raw as a driver because he's only been racing stock cars since 2010. But that's something he shares will fellow USAC star and Cup rookie Larson. He's not quite the prodigy that Larson is but he still has the raw talent and plenty of room for growth. And if can be as good on equipment in Cup as he was in Trucks and Nationwide (just 6 DNF's in 78 combined starts, 4th in laps completed in Nationwide in 2012) then he'll have the laps he needs to get there.