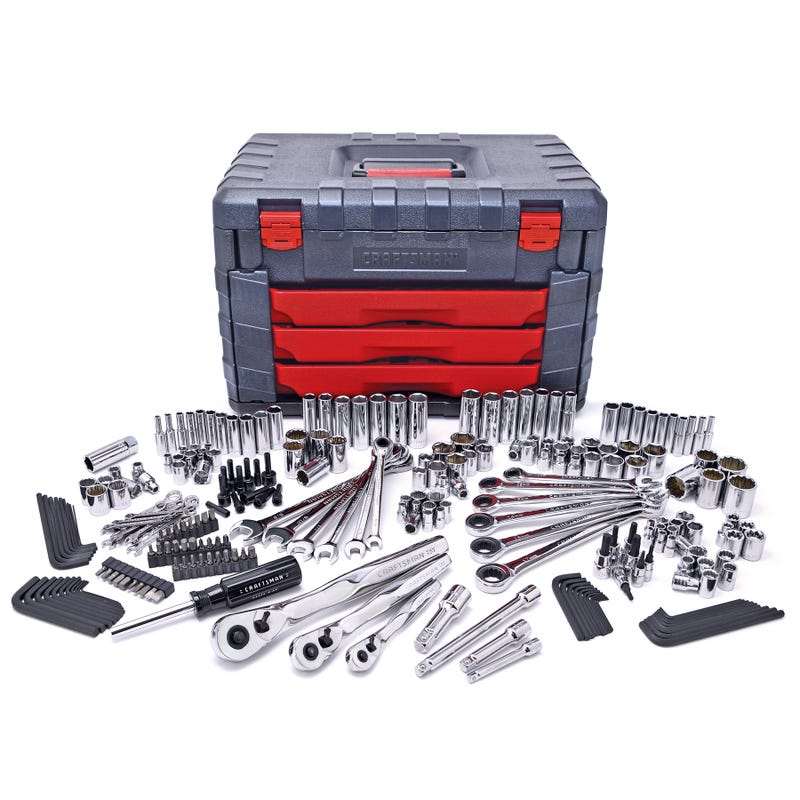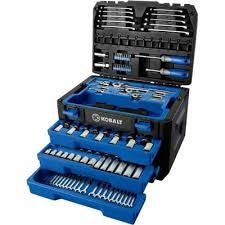 Specifically, the Craftsman 254-piece set vs. the Kobalt 227-piece set.
Craftsman Pros: Better selection of tools in the kit. Craftsman warranty. $179 on sale currently, and I may be able to take advantage of Sears' 20% military discount on tools on top of that, so it's way cheaper.
Craftsman Cons: It's all made in China now. I'm not that big of a fan of ratcheting combination wrenches. How good will the Craftsman warranty be when Sears inevitably goes tits-up in about 6 months? 
Kobalt Pros: Made in Taiwan... Most tools I've used that were made in Taiwan are better quality than those made in China. Similar warranty to Craftsman from a store that's doing a lot better than Sears. I like the big empty drawer on the bottom for adding extra tools as needed. Lowe's gives a 10% military discount, but the retail on this kit is $199.
Kobalt Cons: Doesn't have the "name". The kit is very light on combination wrenches. The box seems to be thinner plastic than the Craftsman, and the drawers have even less retention.
If anyone has any other similar suggestions in the sub-$200 range, chime in! I'm looking to replace my worn out portable Stanley kit that has served me well. I like these kits where everything has a place- I'm an aircraft mechanic by day, so a box that's easy to inventory at a glance just sits right with me.