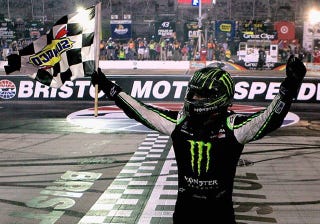 Some would say that winning the first of three races in a week is usually the start of an amazing weekend, and if you're Kyle Busch you're certainly hoping that come Sunday there's a big trophy to go with your two little ones. But then again, should Kyle Busch even have his two little trophies to begin with?
I used to kart as a kid/teen (until dad realized college was probably a better investment) and every season the upper division would always come and have a race with some of the best of the division below it to show the younger kids how "real racing" was done. It was a motivational tool, work hard and train and you'll be like those guys. It's akin to the Varsity/Junior Varsity games at every high school. And, on those rare occasions when NASCAR deems us worthy enough to have such a Nationwide/Sprint Cup interleague race, it's generally pretty good fun. But even back when I was karting, there was always that one kid who raced in both divisions. Naturally he was better than most drivers and as such he always tended to finish top 5, if not podium. He was a bully, he knew how to drive with the bigger, more powerful karts, so he used the lighter ones to work on his turns and aggressiveness (on a circuit he knew most drivers probably wouldn't challenge him).
Kyle Busch (and the other Sprint Cup drivers) is that bully.
Now I know it is perfectly within the rules for drivers to cross-race and race in every NASCAR sanctioned race all the way down to CASCAR and Toyota Series in Mexico (or hell the iRacing.com series online even, which I hear a lot of drivers actually do!), but when you're as seasoned a racer as Busch, and when you're as good a pure driver as Busch, do you really need to?
The way I see the Camping World and Nationwide series is simple, it's the minor leagues. Ask any driver in Camping World and they'll probably (other than Todd Bodine maybe) say that they want to be in Nationwide, and ask a NNS driver and I know they'll say they want to be in Sprint Cup. That's the way it works, you drive trucks, you succeed and you drive the hot rods, you succeed there and you get into the majors and the money. Now if you watched either of the races so far at Bristol this week (and you should have watched last nights, it was amazing) then you'll have noticed one glaring fact: Kyle Busch was head and shoulders above every other drive on the track!
It wasn't really a contest in the trucks, his Toyota was by and large the fastest in the straights and quickest on the corners and in Nationwide he put on a clinic in his short wheel Camry. Bristol racing is one of the more exciting courses (along with the road courses) in NASCAR because it's half a mile and 40 cars: no where to go, no where to hide, and Busch made it look effortless. In fact, the top 5 drivers all made it look easy and surprise, surprise it was two Sprint Cup drivers and three Nationwide drivers who are all but in their last year as hot rod drivers. Kyle Busch is a great driver and a professional; he mentors his Nationwide teammates and that is a great thing. But he's one of the best _Sprint Cup_ drivers, does he really need to prove that to a bunch of young whippersnappers too?
I actually really like Kyle Busch and root for his yellow M&Ms car (one of the few cars that doesn't change every week...though he's running Wrigley's Double Mint this week) in the Sprint Cup but half the fun of the Nationwide Series is to watch the future of racing and to see whose going to be in the Majors soon enough (the other half is to see the crazy driving, wanna see some risky driving? watch someone trying to prove their worth), what's the point in winning races that don't impact your career in any significant way but take away precious few chances some of these Nationwide drivers have to impress owners and get to the Cup? It's always a cool story on Sunday when a driver "sweeps" a track, but you know what's an even cooler story? When that same driver wins the cup.
So here's what I propose instead. Instead of letting Cup drivers run in Nationwide, have a short series where the best Nationwide drivers, let's say the top 15 at any given time, and 15 Cup drivers, let's say we rotate them weekly or we have a lottery like draw (only drivers who want to be in it of course), it could be a chance for the best of NNS to see how Cup driver's run and a chance for Cup drivers to practice before their race. Winners would get a wild card win but no points. Hell they could even have a whole new series sponsor, so money would be abundant. Lastly, there needs to be a way to make sure that the competition is always good in the Sprint Cup and thus, I propose that the two series have a promotion and relegation factor. I know the older, more established Cup drivers probably wouldn't like the possibility of getting sent down to NNS but it not only gives the NNS driver's a real reason to finish top 5 (5 up, 5 down) other than pray an opening happen's in Cup and the boss chooses them, but it also gives the fan's what they really want: the best racing possible. NASCAR series are pretty awesome race's, they're fun to watch and never boring, little changes could make them even more popular than they already are. Oh, and NASCAR, one more thing...more road course's...just saying.