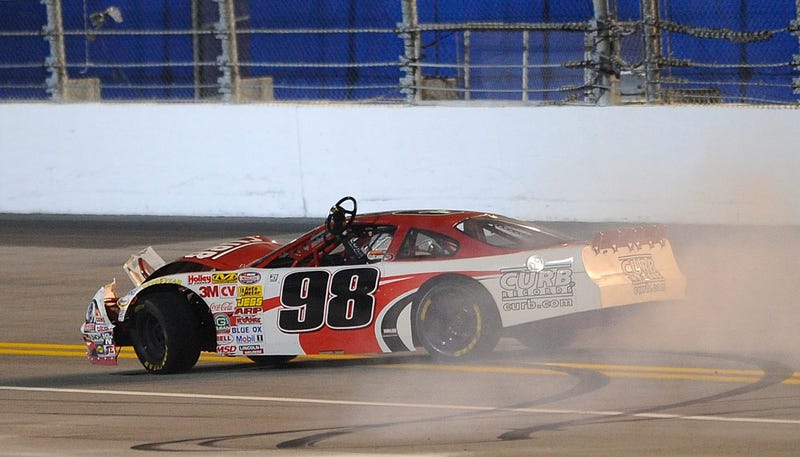 When you race a Late Model Stock Car on a short track, some contact is bound to happen. It's downright part of the racing. But how far is too far? There's no formal line, but Kyle Larson sure tested the boundries en route to winning tonight's NASCAR UNOH Battle at the Beach Late Model race.
(title picture: Larson doing his signature "no wheel burnout" after clinching victory, via Getty Images)
More than half of the first 115 laps were run under caution, with either Ben Rhodes or C. E. Falk leading for the entirety of the early running over Kyle Larson. After that, though, the last 35 laps were a green-to-the-end shootout between Larson, Rhodes and Falk.
About 10 laps into that run, Larson began to make a move on Rhodes for second, and Rhodes shut the door on him, effectively destroying the front bodywork on Larson's Turner-Scott built Late Model but leaving the actual bumper in track. However, Larson quickly dispatched him and got to work on catching Falk, massive damage and all.
(Larson's car shortly after taking the lead for the first time, via Getty Images)
After spending the next 15 laps reeling him in, Larson made a move on Falk with 8 to go, taking the lead for the first time of the race. This would only last for one set of corners, as Falk dove hard into Turn 1 to retake the top position. He then pulled away and essentially secured his own win until, entering turn 3, Larson used what little bumper he had left to attempt a "bump and run" pass, a perfectly acceptable move so long as you don't damage the leading car, without success. However, Larson then used his bumper again out of 4, this time far more significantly, to grab the lead and win the race. In doing so, he wrecked Falk's car and created quite a controversy. Larson went on to win, while Falk got to the line in third behind Ben Rhodes.
(the incident in question)
In almost all stock car racing, a move like this isn't illegal, but it is frowned upon. The reaction to it almost always depends on the circumstances and, today, the circumstances were that neither driver had raced each other before, that neither driver had a history of aggression of this sort and that Larson was driving someone else's equiment, while Falk was driving his own car. That means the response has been almost entirely negative for Larson, with most sharing the thoughts of Penske Racing's two cup drivers.
However, some were quick to point out other veterans say that they would do the same, with JGR development driver Darrell Wallace Jr quoting Tony Stewart's famed 2011 championship winning quip.
Falk himself agreed that it was an impolite move, but held no qualms afterward.
Finally, Larson himself weighed in.
So, why would Larson do such a thing? Because he's not a short track driver. He doesn't yet understand the difference between a "bump and run" and a flat out punting of a competitor. He, like many others, doesn't realize the difference between rough driving and dirty driving. He's been known for the past three years as the ultimate in getting into any car on any sort of track and doing amazing things, but while he may have the talent to do that, he doesn't yet have the experience to quickly learn the culture of the styles of racing he's attempting. He may be relatively old for a Late Model driver at 20, but he's only driven these sorts of cars once before (at New Smyrna this time last year) and he's never raced Falk before.
Larson is not a dirty driver, but he's certainly shown issues brought on from inexperience before. Fighting for the win in his fourth career NASCAR Camping World Truck Series race in last year's season ending Homestead round, Larson raced championship contender Ty Dillon in the same way he raced Sprint Cup Series driver Kyle Busch and, in the end, wrecked both himself and Dillon  with four laps to go, ending Dillon's title chase prematurely and eventually ceding the race win to Cale Gale. This is the issue with a driver like Larson being brought up as quickly as he is, as before 2012 he'd never driven a fendered car on a paved track, and in 2013 he's poised to run in the full NASCAR Nationwide Series season in what many expect is his first step to running in the 2014 NASCAR Sprint Cup Series in replacement of Chip Ganassi Racing's Juan Pablo Montoya. That's a near unheard of run to the top of the stock car ladder for a driver who doesn't bring a lick of funding, and while it's certainly exciting, it's damaging for his career in the long run and I feel it's a mistake.
Larson is on track twice more tomorrow, running in both the Modified and K&N Pro Series classes. He's halfway through a stretch of six big races in eight days, having an average finish of 1.33 in his three starts so far (ARCA at Daytona, USAC Midgets at New Smyrna and Late Models at Daytona's short track).
For more on the NASCAR UNOH Battle at the Beach, read the full event preview I posted here earlier today.