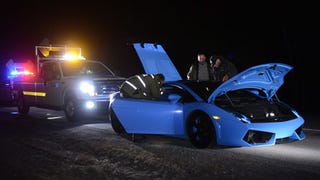 The driver of a Lamborghini was arrested Wednesday night while he was taking a nap on the side on Highway 640, near Deux-Montagnes in the Laurentians, north of Montreal.
When police stopped the driver, around 10 pm, the man seemed oblivious, said Gregory Gomez, spokesman for the Sûreté du Québec (SQ).
The doors were locked and the man did not answer, the police had to break the passenger side window.
They have managed to awaken the driver, only to find that he seemed more drunk than unconscious.
"A sample was taken for testing impaired because it is suspected that the person was under the influence of certain substances," said Gomez.
As for the Lamborghini, it was towed.
Link to news site (sorry you'll have to Google translate it) : http://tvanouvelles.ca/lcn/infos/fait…