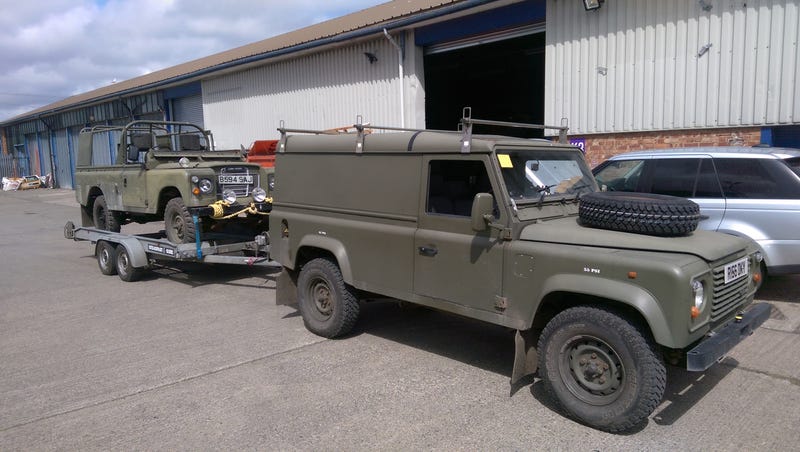 Last week I was wondering where my Land Rover Series was and how far it had progressed through it's partial restoration. The company has had it for 9 weeks, without contact for 6 of those weeks.

So on Thursday I managed to finish work early and surprised them by turning up to check on what progress had been made.
As it turns out I surprised myself, because absolutely no work has happened whatsoever. I came into the car park and spotted it on it's own tucked in beside a Defender, looking decidedly like ne'er a wrench had touched it. I went straight over to it and confirmed that it was exactly the same as I had left it, save for the rear number plate being pulled off. For the last nine weeks they've been driving the Rover out of the garage every morning, and driving it back in every night.
I was utterly disappointed and ready to rage, so I walked into the office and met a smiling and totally un-flustered Marsha which dissolved my rage into grumpiness and I asked,
- 'What's happening?'
'Oh hello you, I was wondering when I'd hear from you!'
- 'What do you mean? It's been six weeks now and I haven't been able to reach you.'
'Well we're just waiting on your decision on the final parts list. I sent you an email.'
- 'I definitely haven't received an email. Was it to my personal account? Anyway I sent you an email and haven't had a response.'
'The same email account we always use. Hang on I'll find it.'
Lo and behold she finds the email with the full parts list dated 6th of July, and shows me it in her sent box. She also shows me the inbox where my email is nowhere to be found.
At that point I relaxed a bit, and while still annoyed that nothing has moved with the build, all of the parts got ordered there and then and there was a pile of already confirmed parts stacked up in the corner of the workshop. It also settled my mind a little that her initial reaction wasn't 'Oh shit', and rather 'Oh hello you!'.
Before the 'build' I did specifically ask her not to ring me as I work outdoors, quite often with noisy machinery and in full view of customers, so I really don't want to take personal phone calls.
We have swapped mobile numbers so we can keep up to date via text message, and I spent another two hours there talking rubbish with her husband and herself. I have since had two text messages updating me on parts and labour items, so I guess that's good.
Am I being too soft with this matter? Or do I give them another chance and believe what was said to me (and what I saw) and their seemingly genuine reaction on seeing me? I don't want to get pushy just for them to fart the build out in record time and in shit order. I told them to take their time and replace what needs replacing, no matter the wait.
Anyway, lots of O.M.E., Monroe, Bearmach, and GLR parts are inbound and I'm all excited again and really hope to have it on the road by September :)
---
In other news:
After a quick opinion post
I'm going to put Eagle F1 AS3's on all four corners on the stock vRS wheels, and Nankang NS-2R's on the two Audi wheels (albeit in 'like new' condition rather than the scraped and gouged example above).

Haters gonna hate, but most of you said they look OK-ish :)