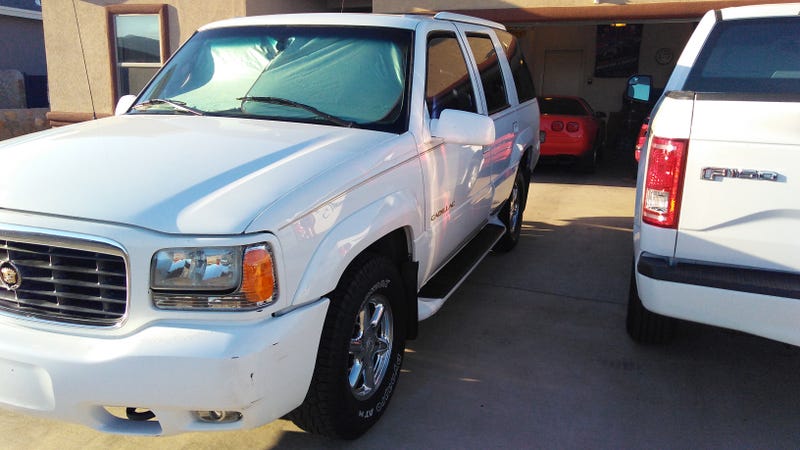 Old Jalopy still cleans up pretty well, which is good since it goes to its new owners today. It will become my parents' occasional towing/bad weather/moving big objects vehicle.
After six years and 60k, it has served me well with relatively little investment for an old truck. I bought it cheap from a shady used car dealer for well under trade-in value at the time because it was filthy inside and out with check engine light issues and non-working A/C and 100k on the clock. $40 for new distributor drive gear (a very common wear item on GMT 400 trucks) took care of the check engine light, and (thanks to inexpensive parts) less than $200 got a new compressor, drier and A/C hoses for working A/C. After an entire day of cleaning, scrubbing, shampooing carpets, detailing surfaces and conditioning leather the interior looked great. It took an additional day of cleaning, compounding, buffing and waxing to get the exterior looking good. A set of helper springs on the back corrected the Cadillac ride so that it could handle tongue weight for tow vehicle duty.
Aside from the initial effort at fixing it up, the only other big repair project on it was replacing all the suspension bushings on the truck with polyurethane, new bilstien shocks all around, all new ball joints tie rods and a new set of all terrains. Everything else over the years were either small, simple low dollar repairs or routine maintenance.
It proved to be handy and tough over the years. The engine survived a suicide attempt via blowing an oil cooler hose. I figured it was probably toast, but it ran fine after the hose replacement and oil replenishment. 15k later, it still runs like a champ.