I have been watching Vikings and gravity falls so i missed the earlier ones, let's break this down
Number one is this majestic steed, the nobelest steed of all... Yeah i can't do it. Pulled it out of a family friends yard for free, dumped a new throw out bearing and slapped it on new tires, drove it through high school until i sold it for:
The first tragic mistake. No really, I drove this for.... Maybe 6 months? Blew it up from oil starvation after a jiffy lube visit (because of course) and picked up:
Oh dear god this was so much fun at 17. Non turbo and I still wrecked it within 3 months. This picture is after I rebuilt it. Ended up selling it quite some time later when I was in college and without a job. I still regret that. Either way a few months later I got a job saved up, and made a huge mistake:
Yeah, I still don't know why, I think it was the 4wd, 5spd with the tire carrier setup. Either way it gets worse: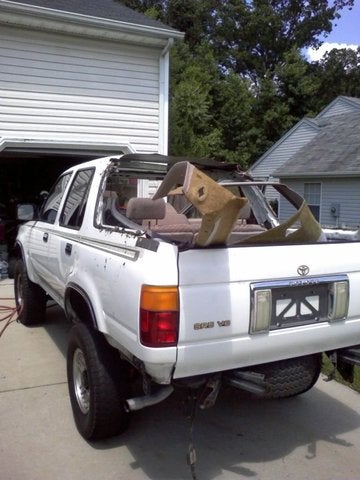 I couldn't say no, actually this is the best deal I've ever made. $200 and it actually ran. Blown headgaskets, but it ran. I stripped this for everything it was worth (both my dad and brother have 4runners as well) then parted and sold the rest. I made money on it, and had a ton of parts! Winning!
Another freebie, out of order as I got the mr2 first but... bike didn't work when I got it, and still didnt work when I traded it for a set of mint tan leather s2000 seats for the mr2 in the picture, which I've owned longer than any other vehicle. It sitting 5 feet from me right now with a dead battery
It's late, and I still have these
All 3 of these are at my house, 4runner I'm taking care of while my dad is living overseas, Saab and mr2 are mine, and both broken. Go figure. All of this is within 10 years too...