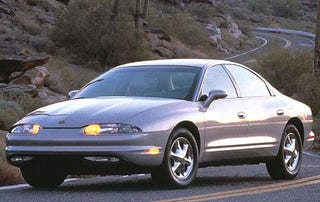 Alright ladies, I've decided my productivity at work has been too high lately, and the most appropriate way to combat this seemed to be to start a weekly spotlight on the cars I love. For now, and the foreseeable future at least, this means mid-late 90s diamonds in the rough. Some of the best and least appreciated cars I can think of.

This week we have a personal favorite, and the source of at least 80% of my craigslist lurking over that last few months (the other 20% I split between looking for my stolen bike and missed connections... for... ironic reasons of course):

The Oldsmobile Aurora
The early 90s were not a great time to be the oldest division of GM. Oldsmobile was suffering from an aging demographic (oh the irony), increased pressure from other GM brands, and what I think we can agree is the epitome of terrible terrible badge engineering (remember the Bravada-Jimmy-Blazer?). Times were tough, and the head honchos up at GM HQ knew it. If Olds was going to make it past y2k they needed to do something significant, they needed a halo car.

The halo came in 1994. Released as a '95 and taking design cues from the "Tube Car" concept (look it up!) the Aurora came on the scene with melt-your-face futuristic looks, a unibody frame so rigid and strong it broke the crush test machine, and a glorious mercedes-record-breaking 4.0L V8 spitting out 250 hp and 260 lbft of torque. Unfortunately the Aurora only had a 4-speed automatic transmission, but at least it had "normal" and "power" shift modes.

Now, I know looks aren't everything, and there's certainly more to this car than its looks, but this thing turned heads. Its aerodynamic body had a drag coefficient of only 0.32, and besides looking like nothing else in the Olds lineup, it looked like nothing else in anyone's lineup.
For comparison here is a 95 Aurora

And here is a 95 Town Car, roughly the same price
Square angles? Really Lincoln? Were you even trying?

Its interior was just as well put together, featuring a driver-centric "cockpit" style dash and center console (think SAAB), stitched leather seats, dual-zone automatic climate control, a "dimensional" audio system, solar control glass, a two mode remote-linked driver's seat position memory, burl walnut trim (not the plastic shit), magnetic variable-ratio power steering and dual front airbags. Standard. Caddy, eat your heart out.
In its first year, even at 35,000 big ones, Olds managed to sell a little over 45 thousand Auroras, not bad. But the high price and lack of prestige associated with Oldsmobile hurt sales every year after that, and by the end of the first generation in 99, they were barely pushing 20 thousand cars. By this time Olds had changed nearly all of its cars to mimic the Aurora's previously exclusive styling. What was once completely unique (the Aurora didn't even have any Oldsmobile branding on its exterior. Only the engine cover and casette player alluded to its brand) had now become a "corporate look" that made its way onto even the Bravada SUV and Silhouette minivan (bleh).


For the start of the new millennium a change was needed. The Aurora was still an amazing car: it had handling no fwd car of that size and comfort should be able to achieve, its list of standard options still made Lexus owners uncomfortable, and while maybe not as bleeding edge as it was in 95 its looks were still distinct and interesting. What it needed was a proper update.
Gen 2
We got that update in February of 2000 for the 2001 model year, a revamped Aurora was finally here.
While its styling may not have been as out-of-the-box as the first generation, I think the second generation is still a very handsome car and my personal favorite of the two. The top of the line still got the satisfying 4.0 Aurora V8 its predecessors had (with a greatly decreased rate of head gasket failure), and the "shortstar" 3.5-liter V-6 variant of the Oldsmobile engine making ~215 horsepower was also available. You know, for people who hate fun. The new model was ~6 inches shorter than the first generation, sported a more conventional rear brake light layout, and maintained the very well fleshed out standard options list, now including heated seats and rain-sensing windshield wipers (and the great dashboard/console layout). The Auto Channel ran a review in 2001 that said "it was better in every respect" when compared to its predecessor, and I have to agree. (you should read that review)
Rear end of the second gen, still very very nice.

The second generation sold very well in its first model year, surpassing 50,000 cars, but for the next two years of its existance, sales struggled to exceed 10,000. Why did this happen? Well there was kind of a perfect storm of terrible for the poor Aurora.

First of all, the rest of the Oldsmobile line had caught up to the Aurora stylistically. Your average Joe would have been hard pressed to distinguish an Aurora from an Alero (especially with Olds' new "swoop" logo). Secondly the rest of GM, and in fact the rest of the automotive industry had caught up. You could get a Lexus or an Acura with the same level of luxury and power for less, leaving more in your coffers for iPods or Nokia cellphones to text into American Idol with (lol 2002). But above all, what killed the aurora was GM's announcement just 10 months after the new Aurora's release, that Olds' long and storied presence in the GM lineup was coming to an end. And as we've seen with Saab and Pontiac, noone wants a car from a brand on death row.

So what do you guys think? Are we better off that there was no third generation Aurora? This was a very special car, and it appeals to me in a way few other cars do. It was big and comfortable, you wanted to be seen in this car. It was never going to win any track days, and certainly wasn't going to convince anyone your penis was bigger, but it could take you into town or across the country in comfort and style, and had the balls under the hood to back that up (well mostly). I love this car, and I'm trying really really hard not to but this limited edition "last 500" model for sale near me (in dat maroon oh man).
Let me know what you think, and if anyone wants me to keep wasting my time with this.