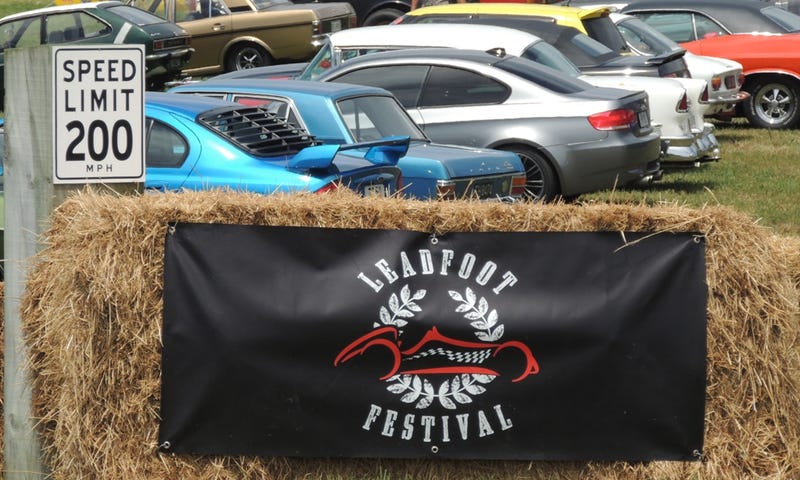 This year so far has been a crap one for me on the cars front. The racecar's only just come back from the panelbeater after I had a 100mph tankslapper in October. I've been too busy at work to get the Golf fixed up to sell like I planned. And for one reason or another I've missed every car-culture event on the summer calendar so far. But the one event I damn well wasn't missing is Leadfoot.
A hillclimb up the driveway of 90s Pikes Peak champion Rod Millen's farm, it's billed as as a Southern take on the Goodwood Festival, but takes itself a lot less seriously. It's a whole pile of fun, up close with some amazing cars and a surprisingly small crowd.
I've posted about Leadfoot previously, so I won't cover the background again, and I won't even go too far on posting new photos of the usual suspects. This year I didn't get a day to myself to go camera crazy, so the photos are just what I could snap, but whatever, cool cars are cool cars.

This year, Saturday started off wet. Really wet. Which kept the pits busy, and the drivers uncomfortable...

Of course the upside of a wet track is serious slidey action, of both understeer...
...and oversteer varieties.
Eventually it dried out a bit and things straightened up, and sped up.
Among the serious contenders this year were Rod's son Rhys Millen in his Global Rallycross Hyundai:
WRC driver Alastair McRae in an ex Possum Bourne Impreza:

..and our host, and every-time-so-far-winner, Rod Millen, a man with a massive home court advantage, a 900hp 4WD Pikes Peak Celica wrapped around him, and not a little competitive spirit:
Normally, I'd have expected 3 times NZ rally champion Joe McAndrew to be tussling for the top of the leaderboard too, but this year he has a new toy, a Group B Quattro S1, and he was struggling with it: untidy and surprisingly slow. Gravel trim won't have helped, but still, it's a freakin' GROUP B car - SLOW???
Of course a dry track doesn't stop some people getting loose...
The Millens have figured out in the last couple of events that drifters are crowd pleasers, so now we get half a dozen of them.Last year's best, Mad Mike Whiddett's quad rotor RX7, broke the diff this year, but this vid from last year's well worth a listen.
More than most events, the carpark at Leadfoot's well worth a cruise. There's a special zone for interesting cars, which keeps all the good stuff concentrated. Plus it's always a giggle to see what the parking marshalls consider "interesting". For reference, this year we turned up in a spit-new V8 Commodore, which didn't qualify. The owner was disappointed - 24 hours with his new toy and he's already being told he's not one of the cool kids.

As usual, the competitors were a mix of the (locally) famous, the interesting, and the odd: this is an invite only event, and the criteria seem to be either (a) be a racing associate of the Millens, (b) have a historied or interesting car, or (c) have something grossly inappropriate and be prepared to give it a whirl up the hill.

Here's Indycar's Scott Dixon and his mum, driving a 1906 Darracq, the first car to ever take a chequered flag:
...this Railton was the first to lap Brooklands at 100mph.
And while as inappropriate cars go, a Superstock dirt-track oval sprint car isn't a patch on the top fuel dragster that tried to get up the hill a few years ago, it still provided lots of sideways laughs while achieving a ludicrously bad time: turns out they turn right about as well as you'd expect.
Tanner Foust's nitro boosted LS7 powered RWD Formula Drift "Passat" fixes everything that's wrong with VW's Camry - and when he's not going sideways in it does a pretty credible impression of a grip racer....

While this Ford V8-powered Citroen is so wrong in every way, I can't even.

Still, dat ass! You can bastardise Tractions as much as you like and the beauty still shows through...
OK, dem asses.
And speaking of pretty cars, I can't resist subjecting you again to Rob McNair's Tiger Moth powered Riley special, which is the most gorgeous (and best executed) thing I've ever seen.
Though this Mclaren M10B runs it pretty damn close. The early wing-era open wheelers were just so elegantly brutal....
And to close, here's some detail shots I liked.
By the way, Rod didn't win this year, for the first time ever. He fluffed a gearshift in the top-ten shootout run, leaving victory to Rhys, with McRae second. No doubt he'll be back next year, and this time he'll really be mad...