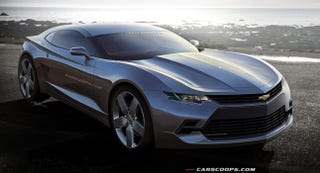 The 2010 Camaro was undoubtedly the most leaked and revealed car of all time. Whether it was legitimate spy photos, GM's own leaked photos, watching it literally beat the shit out of a Decepticon Mustang in the Transformers movie, or the fact that it almost went unchanged from the 2006 Concept – sure as hell kept the concept's green house.
We saw that bitch for years before it ever hit dealer lots. And somehow GM managed to maintain the hype.
We knew about models like the 1LE trackster before it made it's debut, same with the ZL1. Both models were hinted at, and thumbnail pictures of hood extractors and brake calipers were hand delivered by the GM marketeers prior to launch. Remember when CAD files leaked showing off the ZL1 front fascia and you could see "Z28" molded into it? Automotive world's mind.blown. GM later said something about it being a coincidence, or throw back easter egg. Whatever, we had a LSA powered Camaro and that's what mattered.
But then we had the Z/28!? An LS7 thumping car that lived up to it's badges history. That sucker came out of left field. No one knew about it. And hot damn look at how "hot damn!" that turned out. Going toe-to-toe with typical track champs like the GT-R and GT3. It's proof that when engineers are let out of their Cruze and Malibu cages they can develop a wild child.
The fifth gen Camaro was mostly transparent, we knew what was coming, we knew what it looked like, we knew engines. Now the 6th is right around the corner, what do we know? Pretty much nothing. There have been plenty of renderings like the one above by CarScoops, but nothing even close to official, nothing like the Jalopnik leak of the C7 Stingray – was that Ray's last big hurrah before bailing on his hommies?
This guy, Scott, seems to know, or think he knows that everybody doesn't know what they want to know.. Or he's just another internet plug pretending to know what he doesn't know. Yah know?
"I wish people here would let this go as CarScoops has no idea of what the car is going to be like. Just as all the others none have any idea what is coming.

Lets put it this way I spoke to someone who has been involved with the Camaro program for years as an adviser and to this point they have not even been shown or told anything.

This car is more secret than the Nuke codes for the President.

So I wish web sites would lay off putting all these crazy ideas in peoples heads and distorting their expectations on what is really coming.

I know some are dreaming realistically but too many others take this too serious and are often disappointed when the car arrives in real world trim.

Think you will be happy with the real thing. Keep in mind too that GM has to meet real world conditions and parameters with the car so it is not going to get too radical in a Lambo kind of way."

More secret than nuke launch codes!
He is kind of right though. We can assume the engines it will have based on engines found in the ATS, CTS, Corvette, same goes for transmissions. We know it will get a big, and much needed interior overhaul like the C7 got. We know it will ride on Alpha. But that's about it.

We don't know the main selling point, what it will look like.
There are all these renderings and hack-jobs (has anyone seen the 2nd Gen inspired render *shutter*), and maybe the Code 130r and Tru 140s concepts, along with the Transformers 4 Camaro point to some of the design cues found on the 6th Gen, or even the head and tail lights from the 5th Gen refresh. All I can say confidently is that it will have GM's new signature feature: a hood extractor.
GM has been tight lipped on this car. There are no reliable rumors or spy photos or leaks. The car is less than a year away from reveal and we have nothing.
GM took their most leaked car in history and threw it in a vault. Good on 'em.

Here's that 2nd Gen inspired thing I mentioned