If you ever happen to find yourself stranded with car trouble on the "grapevine" as its called, then you may end up in Lebec, CA for your auto repair. There are approximately 2000 people who live here and there doesn't seem to be much else booming in their economy aside from roadside repair. Three or four other cars had come in after us and it only makes sense with such an intense Hill in the desert heat. Check your oil and Chech your coolant and you should be good to go, unless of course you have a random sensor fail like us. Anyways, should you be stuck here you may wonder what there is to do while here. Well, I have been researching this and will tell you a little about what I have learned.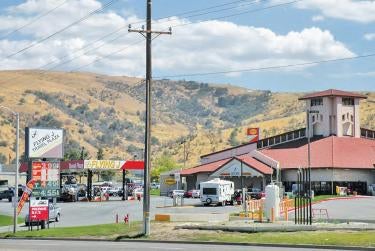 The town was named after an Explorer Peter Lebeck who was killed by a grizzly bear in the area. There was a fiasco with a new hotel built their own water line to the towns water supply without planning it properly. This ended up causing a week long water shortage and all sorts of litigation. They now pray for rain at town meetings, which I guess may be a normal California thing for middle of nowhere towns.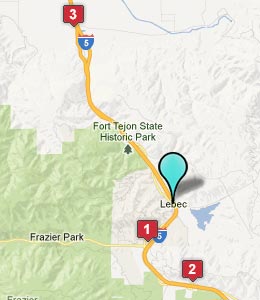 Located along Interstate 5 between Glendale and Bakersfield, Lebec is a small community. Quite temperate weather for Central California (72 degree average) but that's probably due to the elevation. There is only one restaurant in the area along with a few fast food places which are typical to a truck stop area. It's a pretty good Mexican place so at least you will not starve to death. Good price on alcohol to help you during your desolate stay. We chose to stay at the Holiday Inn Express since the other choice was a decrepit Motel 6. Nice stay here but there is certainly nothing to do in the immediate area. Out in Frazier Park, there is certainly some stuff but without the car options are pretty Limited. There is a bus to Bakersfield so I suppose escape is possible if you really want to get out.
Anyways, moral of the story is that I can't see why anyone would willingly stay in Lebec, but I could imagine worse places to be stranded. The mountains are pretty and it's not deathly hot out, I have wifi in the hotel lobby, and a tv to stay occupied with. Hoping for a speedy repair so we can get on the way and head back to civilization. While here, we have met 3 different travelers with cars in other sorts of disrepair. Seems like that's a pretty popular occurrence here!
Here is some more information on the grapevine: http://www.dot.ca.gov/dist07/Publica…