WOW... This was a great build... Click through the jump for photos and videos of the Cargo Plane in action.
Here is a brief video showing you the power functions...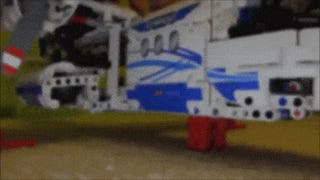 ---
This LEGO model is a fun build and requires close attention to detail (as usual), especially with the handed (L/R) motor drives and the power functions gearbox. It took me just over 5 hours (and two 16 oz IPA's) to build and I consider myself an advanced intermediate builder. The set comes with 1297 pieces and I had about 16 pieces (likely for the alternate Hovercraft model and/or extras) and two stickers left when all was said and done. For reference, the large U400 Unimog (8110) kit has 2048 pieces (and took me about 7.5 hours to build) and the Logging Truck (9397) kit has 1308 pieces (and took me about 5 hours to build). This was a fun departure from the usual car and truck kits I have built in the past as this is the first LEGO airplane kit I have built in a long while - certainly the first TECHNIC airplane model. I highly recommend this model to adult fans of LEGO (AFOL's)... My LEGO display shelves are getting cramped (this wouldn't fit on the shelves anyway), so I am going to hang this guy on some good fishing line from the ceiling.
Enjoy some of the build progress photos below from the original post/thread... If you have any questions about the build, I would be happy to answer them.
---
2300 hrs EDT update - COMPLETE ! Just over 5 hours... It's a great kit... More thoughts on it and some movies of the power functions coming in this post shortly...
---
2130 hrs EDT progress update.... Tail, main gear doors, and wing root built out... Page 164/221
---
Cargo Plane build progress. I've been at it for 2 hours. Only on page 88 of 221 @ 1940 hrs EDT...