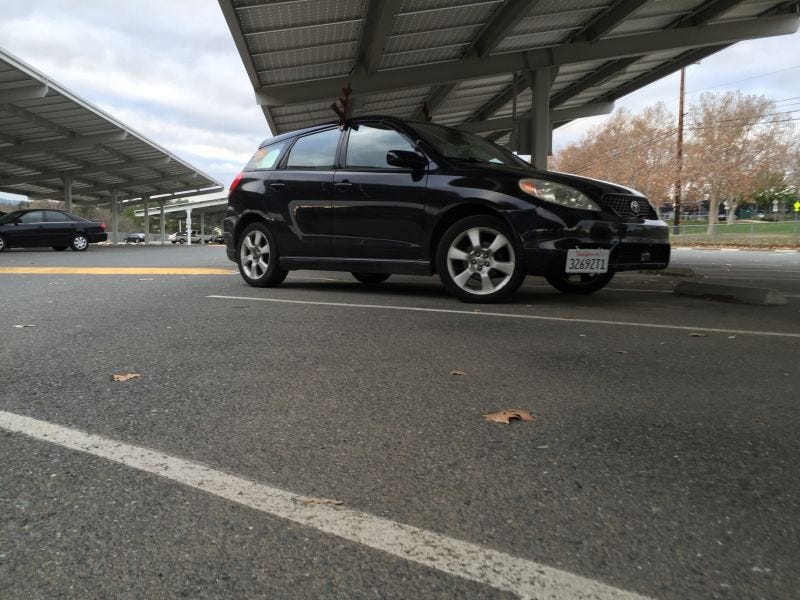 I have been accepted into the LeMons Hell On Wheels 2016 Road Rally during August 16th to 20th. I really want to go, but I have space for 2-3 other people if you want to join the rally in the matrix (and also drive/hoon it as well). I really want people to join along in the Matrix as it's quite tiring and awkward with oneself. It's from Monteray, Vegas, Bakersfield, Santa Cruz, and then back to Monteray. (It is from 8/15 to 8/20 and will be 1500 miles) More after the break.
I'll be paying for the entrance fee and I'm ending all my current projects. No more Di2 bike or parts upgrades on anything. I'll probably be budgeting around a few hundred for gas (we are going 1500 miles based on LeMon's estimates.) and around 560 dollars ish for lodging (if hotels, will depend which ones you want to stay in, or if you want to go camping instead). This is based on 5 nights of lodging...as we will likely will not be staying the night in Monterey as it's expensive as Chris Evans' future divorce suit. We will probably meet at my residence in East Bay and get to the start in Monterey around 8. I'm not going to be drinking as I'm underage (aka I'm 18), so if you want to, be my guest. If you want to go, everyone will be splitting gas and lodging (if you to lodge at a place, by default it will be the least expensive place). Food will be covered by yourself. I'm not paying for your overtly expensive hamburger and I'm sure you don't want to pay for mine. I'm not going to drive fast and but we will decide on the pace as a group.
I will keep the exact meeting points confidential. It's safe to copy from the LeMons website on this one, but if you are seriously considering joining me, I will be more than willing to share the locations. But here's a picture of the route according to Bing Maps. It's around 1500 miles.
This is from the lemons website (under)
The vehicle driven will be a 2003 Toyota Matrix XRS. It has somewhere around 120k miles and fits 5 people. Everything works. The only reason this probably was accepted its spotty repairs. It was hit on the right front quarter, which the mechanic replaced with new OEM suspension bits but neglected to replace a new shock or use decent paint on the quarter panel. It was hit from the behind and there's unknown amounts of bondo. It's road worthy and has passsed smog. There is only one engine check light and it is about a bad O2 sensor. I will probably have that fixed by the time by August. This car has functional HVAC/stereo but has a bit of a faulty gas guage. You never really know how much gas there is. I will try to get that fixed before August. It's been taken to high speeds on drag strips and runs the low 17s on the old chinese tires. Now it has Hankooks on all 4 corners. They are in good condition. The Matrix usually runs around 20 MPG so as long we're not cranking it at 4000 RPM at 85, we are fine in 6th gear.
There is little sound deadening except for under the drivers' seat. Sound deadening is expensive. Toyota took this in mind when they designed the Matrix. This also has the stock exhaust.
This car is semi-regularily taken to the Oakland Hills. This car is fun in the hills. I also commute 160 miles a week on this. It isn't that bad, with TST podcasts and music.
The Matrix has a Nvidia Shield Tablet semi-hard mounted to the dash, abeit in a very ugly fashion. It's preloaded with Here Maps which allows me to download offline maps and to navigate offline. It works very well. There is an on board inverter to power all electronic devices. There is an aux output. There are speakers.
The Matrix has plenty of space. But when you have 4 people in the Matrix, you will be taking in hand with luggage. You can fit plenty of stuff in the luggage compartment (several duffle bags we can fit...and we can fold down a single seat in the rear). There is no luggage rack. My dad wants to install one. I don't see the reason based on how expensive roof racks get.
You need a valid driver's license if you want to drive (highly preferred). There is active insurance, AAA coverage, and registration on the Matrix. You need to chip in for lodging and gas (as will I). Be mentally prepared for 1500 miles. Be ready to occasionally switch off driving so no one gets stuck in the seat for the entire day. That's about it.
If you want to have a road trip before the summer ends in California, feel free to join. It'll be in a newer car than what other people will drive, but what the hell. It's going to be a fun time with a bunch of other people.
Comment below if you are interested or email me at camarossnitro@gmail.com. And yes, my parents approve of it. If I get enough serious interest, I'll drop the 275 dollars for holding the spot.