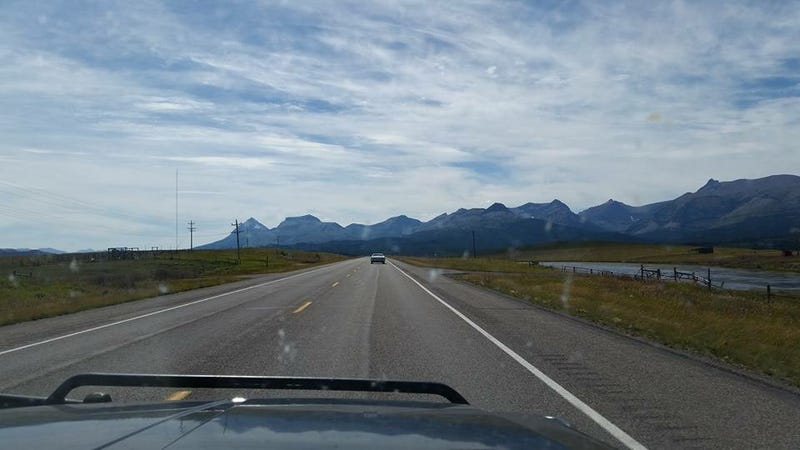 Day 2 was a LONG day, but went reasonably well.
The day started off in Lethbridge, AB, with a scope around for somewhere quiet and semi-private to change the Comanche's fuel pump. The location was behind a sign and graphics shop across from the hotel. We realized shortly after we got started that the place was actually open on Saturdays, but at one point a very nice gentleman came out and started rummaging around in some stuff back there, and when we apologized, he said "no worries, you're not bothering anyone." Sweet.
I like the fuel tank setup on the MJ. The sending unit comes out the side, so you don't need to drop the tank or open any hidden access panels, and as long as you're below a half-tank, you don't even risk spilling fuel. The only trouble I had getting it out was due to the smallest hammer we had being a 4lb sledge, which got tiring swinging at stupid angles at arm's-length to spin off the lock-ring.
The new pump wasn't quite the same as the old, discontinued pump, but some creative hose-clamping got it in. I was actually surprised how clean the tank and everything was inside. For a truck that has seen a lot of unpaved roads (and lots of muddy not-really-roads) in its 25-year, 510,000 KM life, considering there's a seepy plug in the side of it, I was expecting corroded nastiness. But I ain't complaining. We also put in a new set of spark plugs because the ones in the truck were and unknown... they were in the engine when it came out of the $300 plow-jeep donor from last summer, and I never pulled them. They were old, but not awful. But it had definitely been running lean for a while.
We left Lethbridge around lunch time, crossing the border at Del Bonita, and cruising across the Blackfeet reservation, which is very scenic. We did have a brief navigational challenge, in that I was leading and got a "You missed a turn!" over the radio. I saw the turn, and just assumed the other team wouldn't want to take the wet gravel road.
I drive on gravel regularly so we decide the Impala should go first, or I'd be long gone at 70mph. As a result, the Impala suffered its first stone chip. Ah well.
We stopped for fuel in Browning, and ran on all the way to Kalispell, MT. Highway 2 is super scenic and I recommend it to anyone. It wasn't a huge climb either, both vehicles performed flawlessly.
I say flawlessly, but not quite. The Jeep started shifting kinda funny, not downshifting without pushing the gas harder than I wanted, seemed like it was lugging up some of the hills. After adjusting the throttle valve cable twice with no results, I happened to noticed that the trans map switch got bumped to "comfort". Obviously it belongs in "power", and flipping it returned everything to normal. Shifts tightened up, shit points moved up the power band, and just general all-around betterness.
We stopped in Kalispell for supplies, and then pressed on towards Coeur D'Alène. Still spectacular views. Unfortunately most of mine are on the GoPro, so you'll have to wait until I get home for those.
I-90 looked like it would offer some spectacular views as well, but it was too dark to appreciate them. We rolled into Idaho through a construction zone, where both drivers agreed that autocross courses are definitely better off with cones than with K-rails. It's nice to have at least a little run-off.
Coeur D'Alene came and went in the dark, and we just crushed right on by to Spokane. Trying to find a hotel for the night in Spokane at 11:00pm proved futile, so we pushed on along I90 straight towards a waxing moon, towards a hotel in Ritzville. As it is, we're only 80 miles behind schedule, so not bad.
First stop in the morning will be a parts store. Both vehicles are suffering lighting issues, the Impala has a burnt out headlight and the Jeep has a taillight out thanks to a wiring problem related to a previous owner's hacked-in and hacked-back-out trailer wiring harness which hasn't caused me any grief in four years until now.

Hopefully we can get out of Ritzville before noon. Looking at stopping somewhere between Crater Lake and Crescent City, CA, possibly meeting up with other LeMonsists there, maybe. We haven't really talked to them yet...