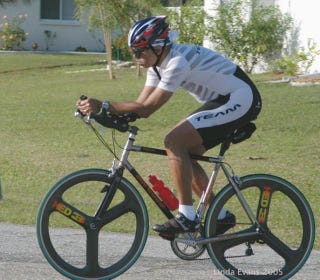 NSFW discovery about body fluids and triathlon bikes.
I was working at a triathlon event as a bike mechanic doing flat fixes and basic adjustments/repairs yesterday morning. I got called to pick up a guy whose bike's front tubular tire decided to fail after his tubeless sealant failed to do the job. I put his bike in the tupperware compartment in the Matrix and drove him back. Through the drive back to the transition area (where you store your bike/swim/run stuff), there was a hint of urine in the area as we chatted about bikes.
When I finally got back, I unloaded his bike and smelled the air from the rear passenger seats. Smelled like piss. Triathletes don't stop when they have to take a wee. They just let it flow and keep on going.
That might explains those weird stains on my Cannondale.