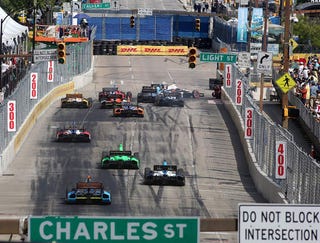 Let me start of my post by saying this article by Sun writer Peter Schmuck need to be scrutinized right now. Saying spectators wanted to see half the race yellow flagged and crash filled, ESPECIALLY after the ALMS race that had Scott Tucker crash head on with the CORE Porsche (he could have been fucking decapitated!!!!!) is disgusting . If any Jalopnik editors see this, please make a post about this article. It really deserves to be shitted on.
Anyway, on to my thoughts:
The Indy race was extremely frustrating. The first half was great. Yes they're were some yellows, but they were some the crash outs/mechanical failures. They weren't because of the track, and because of that I was happy. Besides, the racing was great. Dixson was battling Power, and there a ton of multi car pack battles unfolding right before my eye! It was sweet! Then RHR DNF'd, and everything went downhill from there….
Fucking 3 multicar pile ups. Only ten people finishing on the lead lap. The only championship contender was knocked because of a careless mistake. AND ALL THE FUCKING YELLOWS. It was unbearable. The final ten laps didn't make up for it. To say it was embarrassing was an understatement. The worse part is there are just two (or three) things Indy needs to do so we don't have this again.
I think Scott said this, but no more side-by-side restarts on street courses. Just too much chaos.
Remove the fucking lightrail tracks. Can we seriously not do that? I mean, the chicanes ruin everything and bunch up the cars, it's just not working.
If we're still getting a ton of pile-ups in turn one, make the city repave the braking zones (lots of lockups). Hell, run the track backward if nothing else works! Because as much as I like turn one (and even the over all layout), there have been just too many pile-ups.
Would have been good to see Seb B to win. Even with all the yellows, 22nd to 3rd is pretty damn impressive. Speaking of Frenchmen, nobody is really talking about the fact Simon P kind of punted Seb off the track while fighting for first. I mean, I'm pretty sure it was accident , but I'm not sure it was a no call.
Simona managed to get 5th! She was constantly fighting around 10th/9th place though out the race, so late season renascence maybe?
Totally doing pass control again next year. All access pass and you get to stand right next to the barriers. Just need to make sure I get a better night sleep and always remember to wear zip on pants (pants are required).
Holy shit it was hot. Thought day two was the worst by far, on day three I managed to get a big time farmers tan on my left arm, and my Ipad (which I used for timing and scoring) ended up overheating!
Racers I saw meandering around: Tommy Kendall, Dirk Müller (who I saw trying to get in during pass control), Tommy Miller (who I really should have gotten my picture with), Dominik Farnbacher, Takuma Sato, Bryan Sellers, Guy Cosmo, Dario Franchitti, and in one moment that made my Mom quite jealous, Patrick Dempsey.
For some unknown reason, when Indycars pass by at WOT, I get the distinct smell of a strawberry parfait, or something sweet and yogurty. The IMSA GT3 cup cars on the other hand kind of smelled like grinded up chalk come race day.
Even bad sounding race cars sound good in the flesh! For instance, Indycars may sound dull and flat on TV, but what you may not realize is that they
Crackle like a motherfucker
Have the uneven power delivery sound that you find on a lot of old turbo cars (F40 comes to mind).
Another car that comes to mind is the Viper GTR-S. Ok, so it really low reving (I think it's limited to around 5800 RPM ) and isn't as loud as the Vettes, but it still sounds pretty bad ass. It's a unique sound, what with it being a 8.0 L V10. Can't imagine what it would sound like if SRT raised the redline. And oh boy, the Vettes. They and the 458s (which I've never thought of as the best sounding of the V8 Fezzers) sounded SO GOOD AND SO LOUD. I should probably wear earplugs to the next race I go to, just for the sake of my health!
Wanted to go to turn three this year, never managed to. Frankly I wish the organizers would put up more video screens though out the track. I was going to go down to 12, 8 or 9 and watch the ALMS race from my ipad, but my connection was crap (almost never would stream it) and was often 30 secs behind the actual race, which made it completely useless.
So yeah, that was Baltimore. Despite my negative comments, I hope it was successful and we end up having it again. Seeing any racecar driven in anger is special, but said racecars being driven thought your hometown's streets is even more so. Plus, anything to get the public interest up in racing. Even if most of the adults that came there just wanted to check it out and spent most of their time in the convention center, hopefully the young kids that came were legitimately intrigued by it. One does certainty hope so.