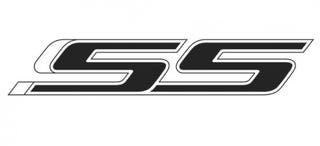 From the early 00's up until the late part of last decade, there were a total of 8 Chevy vehicles that wore the coveted SS badge. I always though that Bob Lutz had a hand in this happening. He got all his toys approved in the 00's. But as I said, there were 8 SS cars for sale during the 00's:
Chevy Silverado SS
The Silverado Intimidator SS which Dale Earnhardt Jr had his hand in creating to honor his late father.
The Cobalt SS, which was originally Supercharged (along with its twin the Ion Redline). In later years and in typical GM fashion, the car apparently became fantastic when the SS Sedan gained the turbocharged 260 horse Ecotec before it went out of production.
The Impala SS which in the beginning of the decade saw use of the tried and true supercharged 3800 before switching to the 5.3 V8 in the previous gen.
The Monte Carlo SS, which since the 90's had pretty much been a 2 door version of the sedan (with the Monte Carlo of the 90's being a 2 door version of the Lumina). Its NASCAR inspired styling actually got some people excited.
The SSR, which was like I mentioned before, one of Lutz's toys and was a rolling Hot Wheel in that it was a completely pointless truck with a bed that you couldn't actually use and it was a hard top convertible. As with the Cobalt SS and again in typical GM fashion, it got what it needed, the 6.0 V8 right before it went out of production.
The HHR SS which used the turbo Ecotech from the Cobalt SS. Apparently there was actually some performance here as well. Rare examples of the panel version in SS trim can be found if you look hard enough.
The Trailblazer SS which was developed mostly by GM performance guy ( and not very friendly man when I met him once) John Heinricy.  
And lastly and certainly least, the Malibu SS and its weird wagon/liftback sibling Malibu Maxx SS. To me these two models epitomized the dilution of the SS badge and was the cherry on top of the mostly shit sundae of these SS models. All of these could be why we haven't seen an SS model, aside from the SS sedan and the Camaro SS, since the last of these went away right before the bankruptcy. So when you think or wish that Chevy had more performance models outside of some visual go fast trim, or the RS package, or anything outside of the Camaro and Vette, direct your anger at these models and their failures.