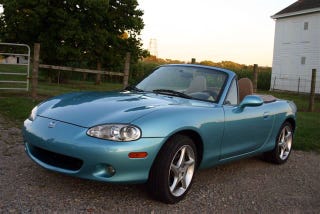 My dad wants a new sports car. He doesn't care about the "status symbol" aspect of the car. He just wants something fun, with a manual. Right now, he's looking at a Miata and a 2002 BMW 330ci.
There are a few criteria to follow:
Must be $5000 or less.
Must be a convertible.
If it's a Miata, it has to be an NB in Crystal Blue Mica w/ a tan top and tan interior. (We had one like this that I may have totaled)
Must be a manual.
4 seats are preferable, but two is fine.
Must have 2 doors.
Must be at least moderately reliable, as he actually wants to daily it in the summer. His exact words were "I want a car to drive, not to work on"
He is okay with a car that he can modify
Must have a clean history
Bonus points if you can find an actual listing that he can look at. I've ran all this by him, and he wants to know what you guys think.