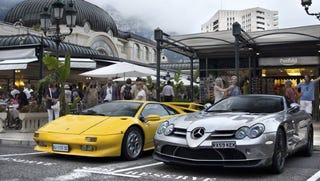 "Look at those common folk cars [worth less than U$ 1.000.000 even combined]"
After watching Top Gear's "The Perfect Roadtrip," the surreal-ity of some of the places they visited is mesmerizing. Of coarse as everyone knows, it's easier for a foreigner to enjoy more of a place he will only visit once (maybe a few times) than for a local townie that knows he is stuck in that place for life. "Freedom" can be such an entrapment sometimes.
"I'm so bored aboard Vijay's Indian Empress"
Such is the case of Jean-François Cambora, a Monaco teen dreaming of other money Oasis such as Cannes or Saint-Tropez as The Onion points out. Poor François dreams of turning 18 and "hopping the first Gulfstream G550 out of this town."
"Those pesky street racers ruining our sun tanning."
It must be hard being a Billionaire Race-Car-Driving Playboy, playing € 25,000 poker games, endlessly yachting on the weekends and sleeping "with so many gorgeous models" one "can't even remember which ones are Corsican and which are Niçoise anymore."
MONACO—Saying he feels destined for something different than his Lamborghini-driving, Dom Pérignon–guzzling peers, 17-year-old Jean-François Cambora told reporters Tuesday he doesn't want to be a Monaco townie forever, stuck in the European city-state living the all-too-common life of a cosmopolitan playboy.

"Look at my friends—in 10 years they'll probably all still be here, still living in their parents' mansions, racing Formula One cars on the professional circuit, spending their days just sailing around on one of their 150-foot mega yachts," said Cambora, predicting that few if any of his classmates would ever hold down a full-time job. "Not me. I'm not falling into that trap."

"No, as soon as I turn 18, I'm packing up and hopping the first Gulfstream G550 out of this town," he added.

A defiant Cambora said he refused to accept the fate so readily embraced by his family members, most of whom never venture beyond the same 15-block radius and are content to pass their time playing jai alai, dining on rare caviar flown in nightly from all corners of the globe, and competing in Grand Prix qualifying sessions.

The high school student also remarked that he doesn't want to become "one of those losers" who hangs around after graduation, still playing in the same high-stakes poker games with the same boring €25,000 buy-ins.

According to Cambora, nothing could be worse than a life of pure leisure spent hanging out with a bunch of lame Monégasques at exclusive VIP parties where the only topics of conversation are private islands, thoroughbred racehorse pedigrees, lucrative investments in the diamond-mining industry, and which friends are launching new fashion lines next season.

"Take my buddy Emile, for example," Cambora said. "I hate to say it, but he's probably going to end up another one of those burnouts who sends remote bidders to Art Basel every year and buys shipping containers full of avant-garde light installations for his eight-bedroom neoclassical penthouse. Then there's my deadbeat friend Maurice, who regularly gets wasted on vintage ports and sleeps with so many gorgeous models he can't even remember which ones are Corsican and which are Niçoise anymore."

"I'm sorry, but that's just not the life for me," he added.

The teenager told reporters he understands how easy it is for people to grow comfortable in an extravagant pleasure dome in which their every desire is catered to, they don't have to pay income taxes, and they can literally speed through the streets in race cars outfitted with diamond-encrusted steering wheels, but he said that was all the more reason for a young man to get out while he still can.

"My parents are a case in point," Cambora said. "They got sucked into this place, and every weekend they're up in their luxury box at Stade Louis II with the same old dukes and duchesses, rehashing the same old gossip about who's adding a second heliport to their palazzo, or who just spent nine figures on a de Kooning masterpiece to hang in the foyer of their guest château."

"I can't wait to get away from all this," he continued. "Right now my plan is to move into a sprawling old manse down in Cannes or maybe Saint-Tropez, just to see what else life has to offer, you know?"