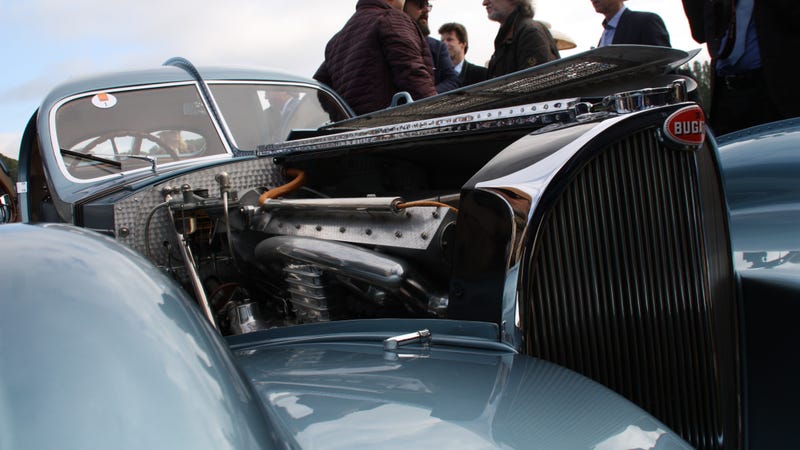 In the Château's gardens, the golden morning light had finally pierced through the clouds. A gentleman was spraying starter fluid in the Bugatti Atlantic's engine bay. Farther on my right, someone was warming up a Le Mans-winning Ferrari V12. "Yes", I thought, "yes, this will do".
This is the third time I visit Chantilly Art & Elegance, and I have to say it's the best so far. To the point where I'm not sure how they're going to top it off next year.
Chantilly Art & Elegance is, as the name suggests, a Concours d'Elegance organized in the Domain of Chantilly. The chateau and its gardens, 30-odd kilometers north of Paris, are famous for appearing as the villain's place in the '85 James Bond movie A View to Kill. But with all that precious metal amassed around it, I'm beginning to think it was the least valuable part of the event.
We arrived early morning to get to see the cars of the Concours before the crowd arrived. That was a good thing, because I'm not sure how I would have been able to take any pics in the afternoon. Still, even the traffic jams were… rather pleasant.
So after parking the Rolls at the club's lot, I almost ran straight to the gardens. I shortly stopped for some pre-(first)-war racing cars that were getting out of their blankets. A quick stop to salute the dozen of Mercedes SLR's that were neatly parked there. Not sure how they were fitting in the whole Concours thing, but there was not time to reflect on that.

I barely stopped for the EB110, either. But I have to say, these things look better and better with time. Well, to me anyway.
Now it was getting more serious. First breathtaking sight of the day would be for this Matra 670. Too bad we didn't get to hear it, but it's still a beautiful car. In this part of the Concours, cars were parked alongside kids' replicas, which was a sweet touch. Also a good opportunity to feel jealous.
But across the pond, I could hear the distinctive roar of a race V12 being warmed up. Time to run some more!
Chantilly Art & Elegance, along with a lot of other events, is this year celebrating 70 years of Ferrari. And it's fair to say that this one of the best places to celebrate this anniversary: a whole section of the Concours was dedicated to Le Mans Ferraris, with about two dozens of cars ranging from a straggle of "humble" Le Mans Daytonas to TWO 250 GT0s. That's right, one wasn't enough. In fact, two weren't either, because they were flanked by the Breadvan, a Le Mans-winning 250 TR, a 250 LM, and so much more. So I did what any normally constituted person would do: I promptly lost my mind.
The car warming up was a 512S, as seen in McQueen's "Le Mans". It sounds even better than it looks. And even at idle, it's still deafening. In a good way!
Mind still lost and ears ringing, I proceeded to walk among the rest of the Ferrari collection amassed there. First, a beastly blue F40LM, providing nice contrast with the elegant chateau in the background. A couple of 575LM were there too, which made me feel slightly nostalgic about my childhood. But mostly happy.
As I was walking the garden's aisles, the cars nominated for a price were making their way to the podium to receive their awards. A great occasion to see this art in movement, but also to chat up the owners. Seeing parked automotive art is great, hearing those engines roar is better. Everyone seemed extremely enthusiastic about it all, owners included, which was great to see. No class barrier nonsense here, just a pure love of cars.
Then was a literal parking lot of Le Mans Daytonas. Which, yeah, I guess when you can have ten of them at your show, why not? They are still an incredible sight, especially that dark blue one, which also raced in the Tour de France.
So that was the Ferraris done. Feeling a bit weak at the knees already, I decided to finish off the Concours section of the show before moving on. Which was one of the my finest decisions, as I arrived just when Peter Mullin was trying to start his Bugatti 57SC Atlantic. Yeah that's right. The show had two 250GTOs AND an Atlantic, a few meters apart. Not something you're gonna see every day. Or indeed, every decade.
It promptly started, too, and I was blessed with a whiff of Atlantic smoke. I'm regretting taking a shower when I got home. Maybe someone should bottle it, I'd buy some.
Sadly, it stalled after a few minutes of quiet idling, because of a stuck handbrake. Then, despite the owner's and his mechanics' best efforts, it was flooded. Bugattis are renowned for being very easy to flood, to the point where some carry two sets of spark plugs, one for warm up and one for road use.
So it was pushed up the podium to receive its Best In Show award, which it of course won. And don't worry, the officials pushing it were wearing white gloves.
It was time to eat already, so I made my way through the last part of the concours, dedicated to rare Italian barchettas. I also spotted one Romain Grosjean, quietly admiring the cars, undisturbed.
After a much needed meal at the fancy Rolls Royce club, I walked to the other awesome part of Chantilly Art & Elegance: the hundreds of cars brought in the gardens by the various clubs.
That took me the remainder of the afternoon, because the park is vast and you never know when you're gonna see that weird, unique car, so you have to see it all. Not complaining!
All in all, if the incredible Ferraris and the Atlantic were absolute highlights of the show (and of my life so far), it's the whole atmosphere that make Chantilly Art & Elegance such a success, year after year.
People come dressed as if they were attending the Queen of England's wedding, but more importantly everyone is an absolute gearhead. It's not Goodwood, it's not Pebble Beach either. It feels more like a giant Torchinsky party than a fancy Concours. Which is at it should be.
If you feel that there aren't enough pictures crammed into this one post, you can check out my Flickr album for more from this perfect Sunday: