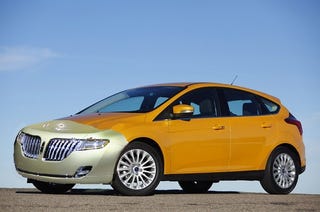 Hey guys I was reading this post from JarrodL regarding a Focus Sport Turbo. I have my own set of crazy Idea's of what I would like ford to make. I think a Lincoln Compact would be sweet. Contrary to many of you I have always been a fan of the lincoln brand. I think if they made a compact hatchback based on the focus it could be a good way to attract younger buyers. as it stands now the cheapest Lincoln you can buy in Canada is the MKZ 2.0L FWD @ $37960.00 before taxes and fees.
If you made a upmarket Focus with the same 240hp 2.0L turbo with a great 6sp auto(no powershift) as the base MKZ. give it comfortable suspension(if you want sporty buy the Focus ST), nice leather interior,GREAT sound insulation(I like my luxury cars quiet) & a good sound system. this would make for a very potent cruiser with a bit of style.
Pricing should start just shy of $30000.00 and totally decked out with park assist,BLISS,Sunroof & Nav should stay under the $35000.00 mark.
I've always liked Lincoln Cars but I have alway thought every model was about 5-7k over priced.
Now you could get into the lincoln brand for about $8000.00 less than you can currently.
What do you guys think? am I the only only that thinks this is a good idea?