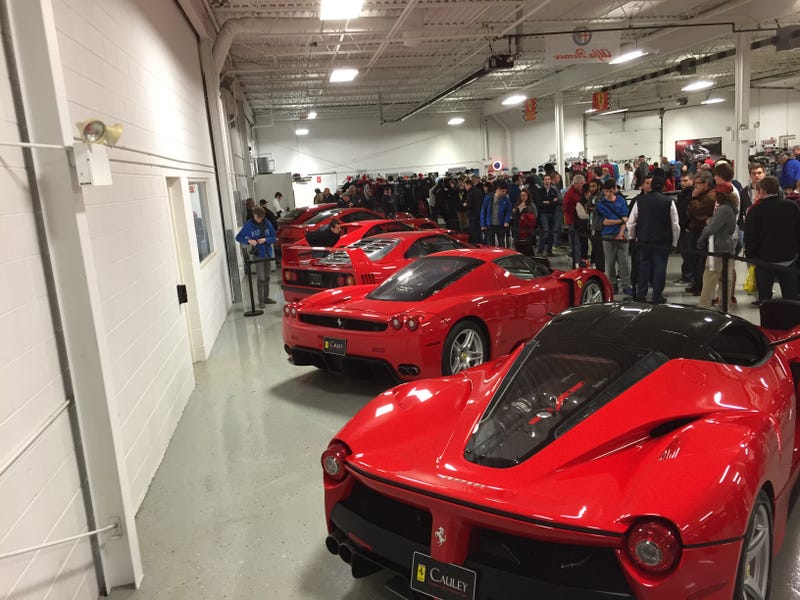 One day out of the year, the kind folks at the Lingenfelter Collection open their doors to us mere mortals so that we may drool over cars that cost more than our lives. Today was that day, and if you aren't amazed by the caliber of cars in this garage then you are either A. Jay Leno or B. one of those UAE oil magnates that has a Zonda as your 'beater car.'
Here are some pictures from today to help illustrate my point:
Here's the LaFerrari next to the Enzo next to the F40 next to the 288 GTO next to the 599 GTO next to the FF. You know, the usual.
I must also point out that I was never sold on the LaFerrari's looks until I saw it in person. Having seen the P1, the 918, and now the TheFerrari, I must say that the bright red Italian is the best looking of the 3.
He also has a Reventon, because who wouldn't want a million dollar Murciélago?
You know you are in a room with some impressive motor carriages when you have to go back because you forgot to take pictures of the Bugatti Veyron.
Just a Porsche 959, no big deal.
Alfa 4C?
Next to an Alfa 8C? I'll take both please.
You know you have truly arrived when you own a purple Vector.
New California T, nice looking car but very underwhelming given the stiff competition.
Wasn't this car on the VetteKart episode of RoadKill?
Some $kay bait for good measure.
And that was only in the first room. The other 2 didn't have near the amount of traffic because to the casual observer, these other 2 were filled with random tuned GM products, but actually there was some really cool metal.
This is the Blue Flame supercharged engine in a 1953 Corvette
There was this thing!
And a Banchee from GTA looking thing!
This one has an Eagle on it because 'Murica
There is also this conglomeration of.. parts.
This exists as well.
This one is blue carbon fiber.
See? It's so blue
This thing was really cool

8.2 Liters of freedom
And 8.2 meters of air vents.
Then there were some odd cars.
Really?
A Fiero. Why?
What is this?
For real. What is it?
WHAT ARE YOU!?!?
This doesn't help at all!
SERIOUSLY?
Is that a Pantera wing!?
Give back this man's wing!
Ken doesn't even have matching shoes!
Some times even Ken Lingenfelter needs to go slow.
The fastest car in the collection. A Top Fuel Funny Car.
Why? Because fuck you thats why.
So there you have it, that's my take on the Lingenfelter Collection.