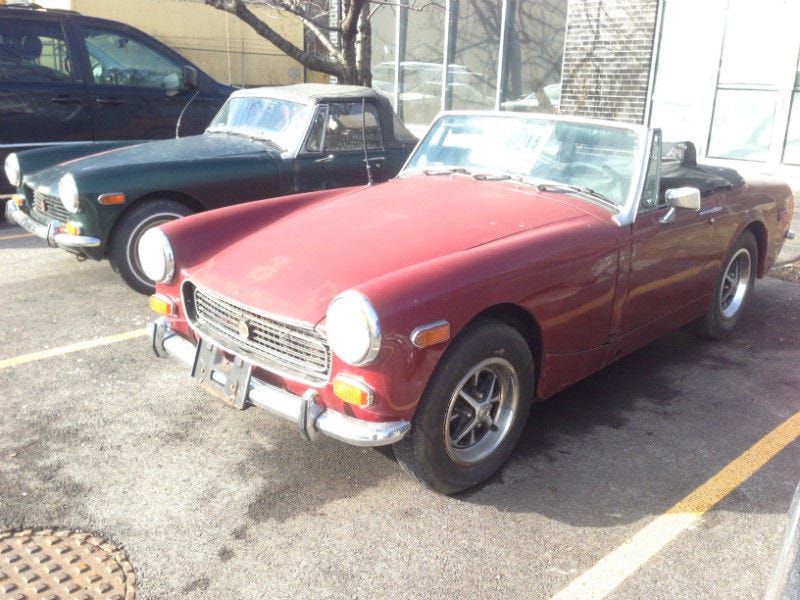 A while ago, I came across this ad for two 1974 MG Midgets with the cosmic coincidence of sequential VIN codes. I contacted the owner of these two cars to find out how this happened and the story is pretty cool.
The current owner of the MG's, Walter Rhoddy, found the MG's by chance when he went to check out the awesome CVCC ice racer seen above.
Instead of buying the CVCC, he fell in love with the two Midgets (Phrasing!) and ended up taking them home instead. Above, you can see one of the MG's in its original barn-find state.
But how did these two end up together? Well they weren't always next to each other. The previous owner, bought the MG about 10 years ago and the ownership history before then is muddy. But from 1974 to 2012, the two were apart before the owner of the red MG went to check out an ad for an additional 1974 MG he planned to use for parts. When he went to check the VIN, he realized that the two were sequential and bought it immediately.
Today, the two MG's are looking rather forlorn but they're finally together. After 38 years apart, it would be a shame to separate them again.
If you want a more detailed version of the story, I wrote an article on Driving.ca explaining it with more depth.