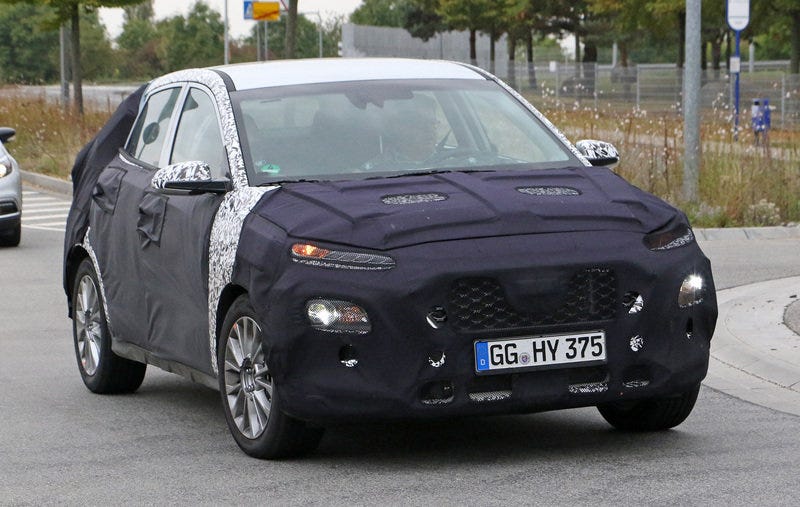 I keep talking about Genesis-Hyundai-Kia (GHK) because no one else is. How often do manufacturers release entirely new nameplates? Products they have NEVER offered before? Completely original and bootlegged ideas without any in-house predecessors? Pictured above is the tester for Hyundai's upcoming Nissan Juke competitor. But while I'm looking over at FCA who can't launch a damn sedan in the USofA, let alone anything all new between its seeming 10-brands-on-2-platforms, Hyundai-Kia has four or five completely new nameplates coming every gitdim year! Let me try to list this sh*t right quick and in a hurry, kin.
Hyundai is going to launch a subcompact CUV below the Tucson. It will probably have the name of a city in the American Southwest that you rarely visit unless you have family that lives nearby. Im thinking exotic places such as Havasu or Reno.
The Santa Cruz crossover utility truck (CUT) which will be inbetween the size of a Tucson and a Santa Fe. Hyundai don't give a ffuuuu about your Ridgelines, Colorados, Canyons, Frontiers, Tacomas, Rangers, open-bed Wranglers (I thought ya'll said this was a dead segment), and Mercedes X-Classes! The Santa Cruz is going to be "compact" while all those other trucks are "midsized." Can't lose a competition that you never entered into it, son! We goin' first period GYM in here!!

The Ioniq-line which includes a hybrid electric (HEV) version that beats the Prius Eco with a rating of 58 mpg combined, a plug-in hybrid electric (PHEV) version which will likely have 32 miles of electric range, and a battery electric (BEV) version that may be able to go 155 miles on a charge.

Then they have this N-Performance bull pizzle! Dumb as f*ck!! I know you're calling that mess N just because all you need to do is flip the gitdim stylized-H badge around, ya cheap bastards... Seriously, how dafaq are these motherhuggers gonna create a performance brand AFTER they spin-off every vehicle that is RWD, can utilize HTRAC AWD, are V8 and TTV6 ready, command higher price points, and have better trained service providers and technicians? What are you going to make after an Elantra or Veloster? A hot Tucson, a warm Santa Fe? Wait, I understand the naming scheme now! That's actually hilarious.

Now privy this Genesis luxury brand launching, just as much a luxury brand as privy is a verb, kin. We don't get brand new consumer luxury brands in the US often. Usually we'll get returning nameplates or something that's been around overseas for decades. Think about this, we got Acura ('86), Lexus ('89), and Infiniti ('89) then a looong gap until Tesla ('04) but they weren't a consumer luxury brand until like 2012. Can't count Fisker even though the car itself ought to be a Saab with how often it pops up in somebody else's hands.
Hyundai is confident that they can launch a luxury brand while starting a performance brand, building "class-leading" hybrid vehicles, breaking into the truck segment, working on autonomous technology in-house, being the lead sponsors for every professional sport that matters in the US, and competing in the most competitive automotive global market in history during a time where a 28 year-old can build a car faster than a 918, one dude wants to nuke Mars and build batteries, and Christian von Koenigsegg is a freaking time travelling warlock putting on an interdimensional cable show called, "Teach the Monkeys."
Dont get me wrong, the luxury brand is probably priority one or six-ish. The G80 and G90 aren't anything new, they are just the second generation Genesis and Equus. Honestly they haven't released a real Genesis product yet, well in my opinion at least, but I'm just fourteen ferrets on an Etch-a-Sketch so I can't be trusted. Let's have a look at what never before attempted products are coming from Genesis!

First up is the 3-Series alternative Genesis G70 Sedan. Hyundai is saying it's a premium/near-luxury/entry-level car which all means that this is still a Hyundai-Plus subscription service. I'm not gonna lie, I'm excited for it though! Nothing like RWD vehicles for under $35,000 from brands that use a lot of incentives, a lot of rental cars, and suffer heavy upfront depreciation. There will be a G70 Coupe which is likely to be the first full-on product specifically developed for the Genesis brand.
There's also a compact CUV and midsize CUV, both of which are being built off of RWD platforms so that's pretty fetch. Don't know what the SUV nomenclature will be! XG70? GQ80? OG triple OG triple..triple...OG?
*cough*
*sniff*
*scratch*
Mmph! Well gitdim, that's a lot of 'all new' piles to come our way all majestically and sh*t. Hey, all this while keeping the current lineup, well excluding their sportscar the Genesis Coupe (which is dead), their flagship sedan the Azera (which is as good as dead), and their European-style handling hatch the Elantra GT (which I'm just calling Zed for now). Nothing important in there for a brand that will be front and center at the Superbowl. Not like they could end up perpetuating a Kanye rhyme or anything.
*yawn*
*stretch*
*did you yawn?*
Yo, Kia's got toys too?!
Wait, we got Kia coming out with a cut-price, RWD, 420 hp V8, slightl smaller Audi A7 4-door liftback?! It'll be on sale next year?!! Why am I still wearing pants?!!!
Wait, they "might" bring the Borrego back as a discount attractive Infiniti QX80 fighter instead of having LeBron fart around inside a boat and calling it a luxury sedan?! Did anyone ask for that? I mean, yeah I wrote letters but didn't think anyone read them...
Wait, they are using the technology from the Ioniq lineup in their own dedicated hybrid vehicle that is marketed as a compact CUV instead of a hatchback? Isn't that like totally the vehicle variant that's sooo hawt right now? Oh, Kia wants to build an all electric version of it too? Well I wouldn't worry about it if I were Hyundai, it isn't like Infiniti's dealerships forced the company to call the Q30 hatchback a QX30 CUV just to get more sales stateside.
The US is a lot of things but pettyful and sophmoronic are, like many words, not in our vocabulary.
Wait, Kia is planning on launching the GT-Line of enthusiast-friendly versions of their lineup?! What, and they're going to use the platforms and engines developed for Genesis (which are now off-limits to the Hyundai brand) in order to make their own luxury/sport vehicles while keeping them under the Kia brand?
Wait...no, I'm done waiting! I've waited at least *scrolls up* FOUR times already, I'm done! Gimme now!! Well more like gimme four years ago so that I could be buying it right now...irregardless and whatevermore, I'm liking all these new toys coming for us. Especially since anything that isn't a hybrid is RWD.
**This long-ass post contains nothing but all the completely-new-and-never-ever-attempted sh*t coming into the US from S. Korea before FCA is going to make an all new Dodge Challenger/Charger.