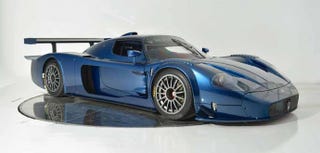 Holy Shite, just look at that thing!
I remember the post of this thing coming to the US and being delivered in Californ-i-a. Well she is now officially for sale in Ft. Lauderdale. I hope someone drove it across the country to get it to Laudy. I'm sure it will make that guy who drives the BRZ with all the fake Ferrari badging up and down Las Olas, very jealous..
Free CarFax included!
Halfsies anyone??
http://www.maseratifl.com/used/MASERATI/…