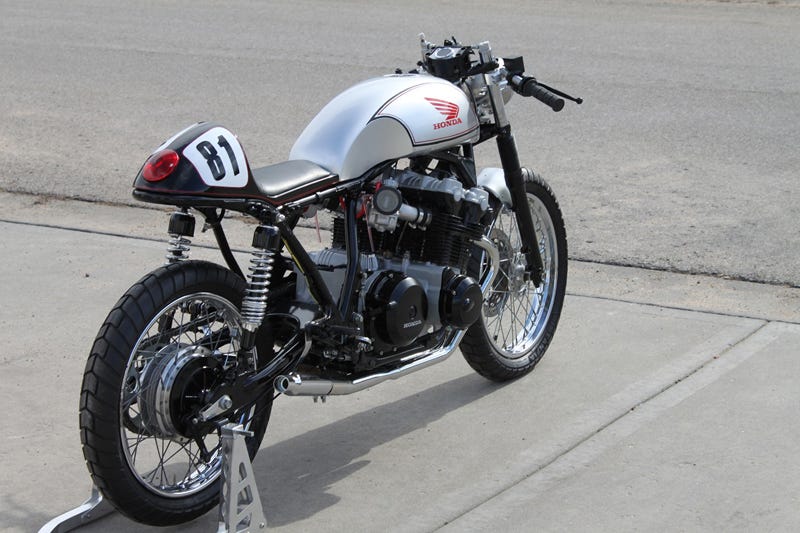 I am finally almost finished with my kitchen remodel, which means I can get back to my garage projects, and I think I will be starting backup on my Cafe Racer project.
The bike is a '79 Yamaha XS750 that I picked up back in March. I have striped it down to frame and made the necessary frame modifications for a cafe, and am at the point of sand blast and powder coat.
My original idea was to go all out on this. Swap the front setup for a modern R6 with inverted forks and semi-floating front disk brakes ($$$), full custom seat with a hand shaped rear cowl (time and $), custom two tone paint with had laid pin striping and branding (Very$$$), as well as all the normal things that would go into this; carb rebuilds, updated controls, updated electronics, tires, brakes, custom exhaust and all the custom fab that goes along with it all. All in all I am probably looking at 3 to 4 months of time and probably five to six grand in parts to do this.
Well I have recently been inspired by a few rat rods in my area and I am thinking of something a bit different now, less expensive, and less time consuming. All good things considering I have taken my other motorcycle off the road to sell.
The new idea is still cafe style, but more of a rat rod influence. My friend owns a metal fab shop which I often use, and there is a ton of cool scrap hanging around to use. I would cut the front end swap out of the budget, which saves about $1500 on the build, save a ton of time on the seat build, as I would just make a basic bench style seat, I would do satin black and rust patina in loo of expensive paints and powder coats. There would still be a lot of custom work to it to get it to ride smooth and 'safe', but it would have the look of a "rat" and would cost me less than half, and probably only take about a month to build.
The $ isn't the big issue here, but I dont want to be without a bike for all of too long. And I am digging the idea of a rat bike.
Thoughts?