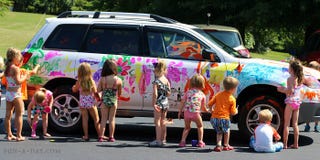 As I inch closer to being able to repaint my 68 Camaro, I'll need to find someone to do it. I know of a guy on Michigan's West Side and another in Kentucky who's work I saw in person & really liked, but I'd rather find someone local.

I've been scouring the web all morning to find the name of a Detroit area guy who I had wanted to contact, and who I must've seen on Oppo or Jalopnik.

Seemed to be a one or two guy operation. I vaguely remember his Facebook or Instagram was talking about moving to a new place and I remember there was a picture of a Christmas party held in his garage. I think one of the cars he was re-doing (at the time of my viewing) was a green, late 60's sedan. His posts said he did a lot of high-end stuff as well.

I'm pretty sure it wasn't Detroit Deluxe 'cuz their Facebook pictures don't look familiar, and Mystery Paint Guy seemed to be smaller operation.

Gah, I'm going crazy trying to remember. Maybe my brain made this all up.
Any of this ringing a bell for anyone? Are YOU reading this, Mystery Paint Guy?