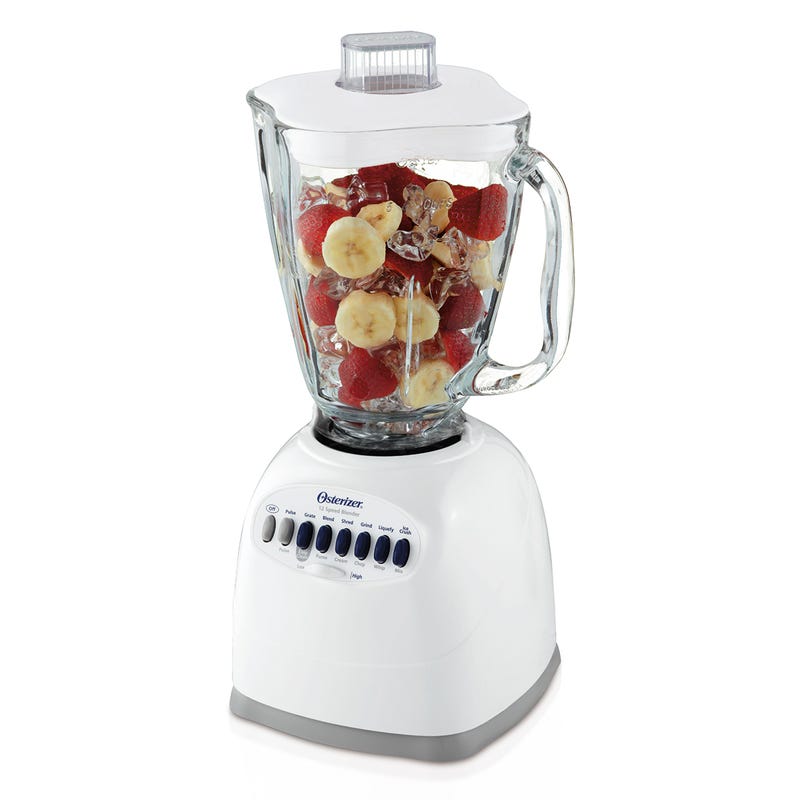 My gf and I have been talking about getting a new blender for a while. Despite my being a food nerd in the extreme, we've been getting by with her cheap old Oster blender that looks very similar to the one pictured above. But the time has come, because today the Oster exploded.
The Oster blender did not explode on its own, mind you. My gf made a smoothie this morning after I left for work, and she accidentally left a metal spoon in the pitcher, which is was glass. She turned it on and the spoon shattered the pitcher. I got a series of very distraught texts explaining this.
So...time for a new blender!
As I've started looking at blenders, so far what I've learned is all kinds of people people get extremely opinionated about blenders. You'll get almost as many opinions about blenders from a crowd as if you had asked them which smartphone to buy and on what carrier. It's crazy.
I've arrived at KitchenAid as my likely direction, and I'm deciding between the KitchenAid Classic 5-Speed Blender and KitchenAid Diamond 5-Speed Blender.

They're very similar, but the Diamond has a few additional features over the Classic:
60 ounce pitcher instead of 56 ounce

720 watt motor instead of 550 watt
"Diamond Blending System" which means the base of the pitcher is shaped like a diamond instead of round on the Classic, which supposedly makes more of a vortex that sucks stuff down toward the blades, for better blending. In theory.
The squiggly lines mean it's blending more! (Maybe?)
I'm sure you folks will have opinions on blenders as well, because everyone does, apparently. But I'm getting a KitchenAid. Just have to decide if I'm good with the Classic for $80 or if I want the Diamond for $120.