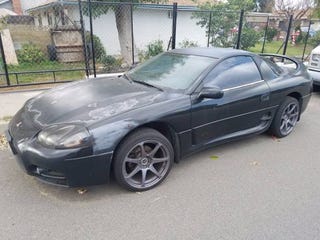 I like low cars. I'm sure many of you do as well. I decided to rank the cars I find myself drooling over on Craigslist by stock height. Here's the list, in order of lowest to not-lowest:

Corvette C4 Hardtop: 46.7"
Corvette C5 Hardtop: 47.7"
Mazda RX-7 FD: 48.0"
Corvette C3 (Later years): 48.0"
Nissan 300ZX Slicktop: 48.3"
Mazda MX-5 NA: 48.4"
Toyota MR2 SW20: 48.6"
Toyota Supra Mk. IV: 49.2" (Never seen one on CL but I like them)
Porsche 944: 50.2"
Mitsubishi 3000GT: 50.4"
Camaro F-Body: 51.2"
My criteria for this list were decided after I compiled it. Most of these are front-engine (MR2 is the exception) and RWD (Aside from the FWD/AWD 3000GT). They're all two-door as well. I also noticed that all the cars I selected are available with manual gearboxes.
Japan and America make up the bulk of the makes and models I chose due to ready parts availability and reliability. All the American cars use the Chevy Small-Block V8. The 944 is the outlier of the bunch, included because it's the cheapest low-riding German car I could find.
Many higher-end cars are low too. I haven't included any of these because my budget is... low too.
Are there any other cars I should be including in this list? I'm open to other drive types, numbers of doors, etc., just as long as the cars are low.