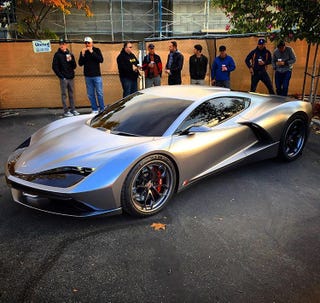 The VIN cards came out listing that a 2018 Corvette model will be getting the 6.2L "LT5" engine with a dual overhead camshaft. Some people are taking this to mean mid-engined Corvette because it's naturally aspirated and the LT1 and LT4 are still present for MY2018. The LT5 designation was used for the 1990-1995 Corvette ZR1 which had DOHC, but everyone is arguing about how you go natural V8 and still be faster than the current Z06. Thus the first riddle has been asked.
Im not seeing an LS7/LT7 listed for the upcoming Camaro Z/28...so I guess it's an upgraded LT1 which SHOULD be in the Corvette Gran Sport too. That leaves this LT5 (line 9) as either a new 'Vette or the ZR1. That's what has everything lit up online right now.
However, I'm seeing a diesel alpha platform (line 1) and a new vehicle on the omega platform with the LT4 (line 6b). Now the diesel must be the ATS, that makes more sense than a diesel CTS or a Coalmaro. But line 6b is where my interest lies. Here is the VIN card chart for MY2017 for comparison.
Is it a CT6-V? Is the CTS switching platforms and becoming the CT5 next year and debuting with the same power plants? (There's four model years on the CTS already). There is a full-size CUV coming next year on the Omega platform to sit between the XT5 and Escalade, could it be an X5 M-fighting Cadillac performance SUV? Is this the engine for an Escala-like CT8 superlimo? Between this LT4 Caddy, the lack of LS7/LT7, and the LT5 coming back the same year as a new ZR1 I'm left with more questions than ever before!!