So I love M*A*S*H and I have a Korean War era truck. So I thought I would put some homage on there somewhere. Tell me what you think, am I as crazy as Klinger?
I thought about painting swamp on the side of the hood, or smaller elsewhere?
The truck was in the 151st so I thought this heart looking thing with the lightening bolt could go somewhere in one of those spaces along the bed:
I saw a picture of the truck when it was with the Army Corps of Engineers and I found an official decal that they used for the doors, that I could see on the truck before they stripped the old paint off.
Here is my truck when it left their service before the previous owner got to work on it: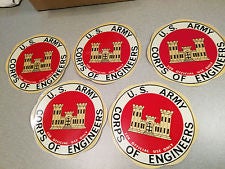 So this decal can go somewhere on the bed as well. I thought I could find something to represent other jobs it had.