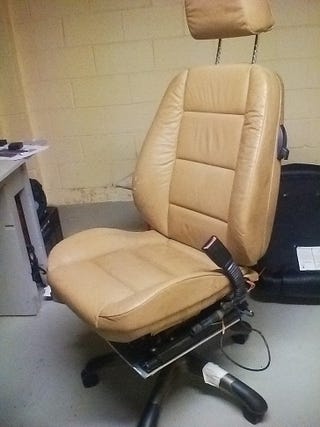 I've had the stock seats from the ralle36 sitting around for over a year now, so I figured it was time to do something with them.

My office chair broke a little while ago and the back was basically not attached to anything. It's really annoying to have to sit perfectly upright all the time.
I removed the four screws holding the old chair in. Next, I took everything to the garage and hacked off a piece of aluminum plate with the angle grinder. This is leftover 1/4" 6061 from making my skid plate. Four holes on the outside to line up with the seat frame and four holes to line up with the base.

One difficulty with these seats is that they're powered, and the sliding rails always cover at least one set of holes. To get around this, I used some test leads to connect the seat to my car. The seat just had 12v and ground wires, so I unplugged my rally lights and connected in there. I was able to position the seat as I needed to and got it all tightened down.
For the other seat, I wanted to do something easier. I picked up some caster wheels from the hardware store and just welded them to the frames...
So now I've got two sweet BMW seats in my house. I'm planning on rigging something up to keep them powered as well...