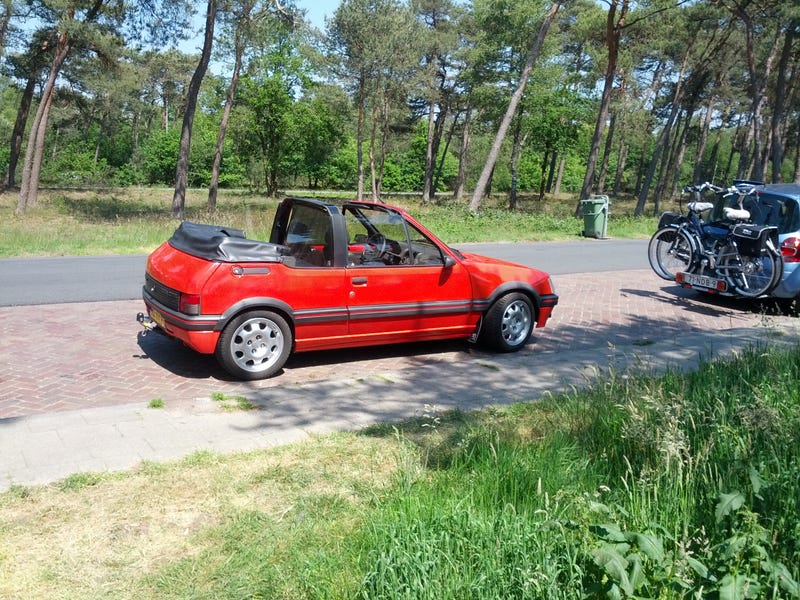 Today I went on my merry way to magically turn a stack of paper into a classic Italian-built influenced French convertible. The magic trick worked, but wasn't flawless. This is where I'll explain what happened.

7:45 am. I got my company car(*1) and... drove 4 kilometers to my company's parking lot. From there on I walked the 8 minutes to the train station and I took the train to a place deep in the Dutch Bible Belt. While I'm seemingly able to magically turn paper into a car, I can't magically drive two cars at the time. So train it was. The trip was about 190 kilometers (120 miles) and would take about 1 hour and 50 minutes by car, assuming no traffic jams. By low-speed train it takes 2 hours and 20 minutes, including 20 minute transfer time in between. Not bad, not bad at all.
The second class cabin. I obviously picked the 'silence' carriage, meaning people should be mostly silent. When I get the chance I always pick one of these as having to listen to all the dumb things people shout into their phones seem to kill my brain cells.

Even the scenery wasn't all that bad.

10:36 am. Arriving at my destination I spotted the seller of the car. During our previous meet I had already test driven the car and made a bid on the car that was accepted. But not before we had agreed to meet at the train station close to his home at the day of delivery. Sadly he brought his daily (*2) instead of my future car. We went into town where we did the official paperwork (mandatory in the Netherlands) at the local postal office. At that time I was the new registered owner of the car.
11:00 am. Next stop: the previous owner's home. There my car was waiting for me. A 1988 Peugeot 205 CTI with 192k km on the odometer. It was parked right in front of the PO's shed full of Beetles and a Karmann Ghia. He's a VW guy he told me, so he wanted to get a bitch basket VW instead of a Peugeot. Considering the content of his garage this seemed plausible to me.

Picture from the ad. The Peugeot parked on the PO's driveway.
We exchanged pleasantries, I made a stack of paper disappear and when I wanted to leave I was invited to a cup of tea. With cake. Because their son had just graduated. As I make a habit out of never refusing cake I stayed a bit longer. When we finished the tea and cake, the PO helped my practice opening the roof, mounting the cover and installing that thing behind the front seats that's supposed to reduce the amount of wind in your neck. He also handed me a spare set of windows for both front doors he had lying around for some reason. He also had another red grille. I probably won't need them, but the PO certainly won't need them so it all went into the trunk.
During my test drive last Monday I spotted a few minor issues. The gear knob was broken, the original rear view mirror and mounting point were missing and were replaced by some after market stick on mirror, and the leather on the steering wheel was rather tired. As I knew a 205-specific place on my way home I headed there to pick up some parts.
11:55 am. Shortly after leaving and on my way to the 205 place I scored my first significant road kill in this 205. A dragonfly managed to head-but my window wiper. My window wiper won. The head seemed to separate from the body rather quickly, but the dragonfly (head included) managed to stay tangled in my wiper for the remaining 150+ km I drove after the collision.
The dragonfly as it was 15-30 minutes after first contact. Notice the typically Dutch scene in front of my car: a tallish compact vehicle owned by babyboomers. Babyboomers who seem to be going on holiday or on other kind of pleasure trips 40 weeks a year in this country. With their bicycles.

During my drive to the 205 place I noticed something I should've noticed earlier. Far earlier. It didn't shift right. At all. I had noticed it didn't shift as nice as my 205 GTi, but it seemingly started to shift worse or I became more critical. Especially 1st and reverse were bad. I hadn't used reverse during my test drive, and I only shifted it into first once, so I overlooked it. My test drive consisted of 2-5th gear mostly. Anyway, when shifting in reverse you can hear the gears grinding. When in first, with the clutch pressed, it would crawl forward like a car with an automatic. It needed significant strength to put it in first or reverse during a full stop with a running engine.
This 205 place, called 205 Totaal, has maybe a hundred 205s and a few 309s. Many junkers, many potential restoration candidates, some cars for sale, lots and lots of parts. You can even rent a stretched 205!

205 Totaal, a place with probably 100+ Peugeot 205s. Picture source.
At 205 Totaal I was asked to retrieve the parts myself. As I didn't see myself removing a steering wheel at that specific time and the steering wheel isn't that bad I chose to focus on the mirror and the nob. Both seemed easy. Getting a mirror was easy. It would slide right from the metal mounting point, which was glued to the windshield. Sadly my car lost that metal mounting part as well. So how do you get a small metal part loose from a windshield? You get the owner of the junkyard and a hammer. The already slightly cracked windshield of the junker didn't survive.
Rear view mirror of the 205, according to Peugeot Servicebox. Getting part 1 was easy, getting 2/4 was hard.

The gear knob was easy as well, with some persuasion they can be motivated to evacuate their initial position. Many junkers didn't have one anymore or had a cracked one, but many others did still have one. However, none had the right one. Some had 4 speeds, most had 5 speeds. However, the early GTi and CTi had their reverse gear left of first gear. Regular 205s had reverse where a sixt gear would be. None of the junkers had an appropriate gear knob. Since I thought getting a wrong gear knob was better than having a broken one I picked a wrong one.
Left: the gear knob with the correct pattern. Right: the type of gear knob I got.
---
14:45 pm. After losing another piece of paper I set out to drive to my home town. I had made an appointment with a friendly shop, specialized in older (but not classic) daily driver French cars. They would inspect my car to give me a realistic analysis of the condition of my car. A mechanic noticed my dragonfly. He also noticed the dragonfly still twitched its legs, multiple hours and 150+ km after the collision.
The mechanic looking at my car noticed that the a fuel line was crumbling, and had to be replaced soon. Easy. The clutch problem was something he could probably solve easily as well, but he lacked a part. The clutch merely needed to be adjusted, probably. However, the clutch cable was at its outmost position so he needed a part to extend it. Or something like that. Anyway, I'll be back Monday when they will have the part. They'll also do the fuel line then. Other than that and some engine oil sweating the car seemed to be in great condition. New front brakes, new brake lines, no rust. I was given a set of two types of tubes, which contained fluids which when combined would make metal-on-glass glue. I glued the metal mounting part of the mirror on the windshield. I left the shop without leaving any paper behind.
The next stop was the last stop for the 205 this day. The underground parking garage of my company. I won't have my own garage until early July and since I don't want to streetpark a convertible this seemed the best solution. While parked I made a few pictures of the car. It was 16:45 when I closed the doors of the 205 for the last time that day.

New leather on the bolsters. Bolster foam has probably been replaced as well.

After arriving home I noticed driving a 205 CTI convertible had left a permanent mark on me.

And yes, HammerheadFistpunch, there's a tow hook on this subcompact convertible. Probably intended for a bicycle carrier like the one pictured earlier.

(*1) manual, diesel, wagon
(*2) manual, turbo, quattro, wagon